Insights
How to Progress During a Pandemic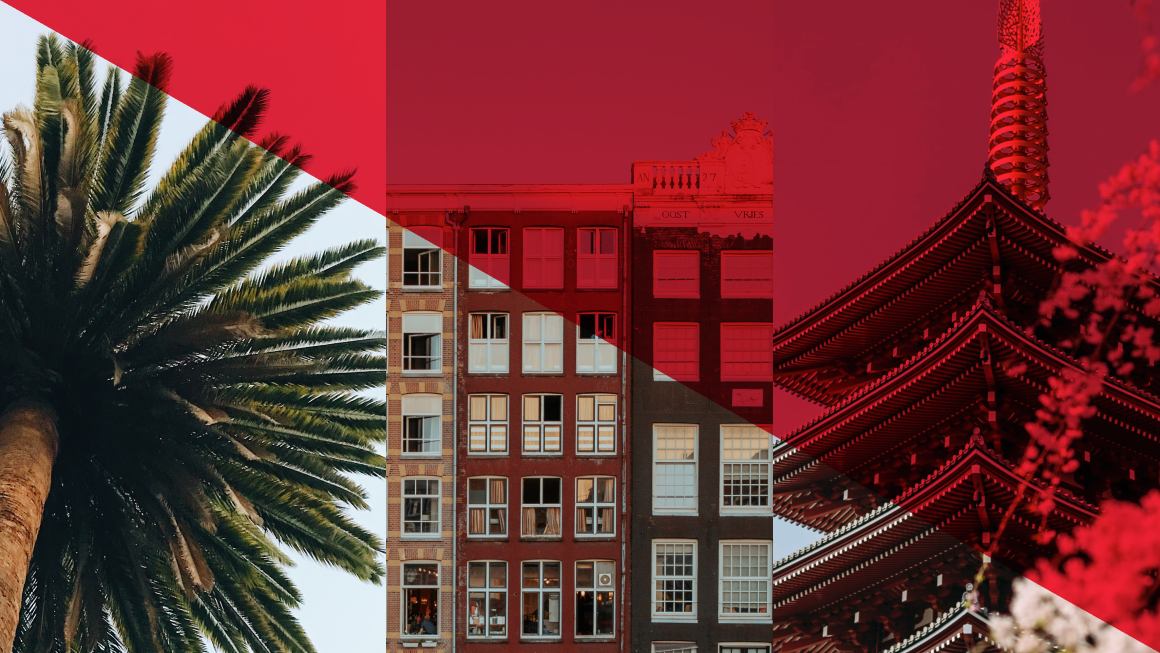 As a global design consultancy, we're driven to maintain a global presence and strong international connections. So, when an Asian manufacturer came to us with an opportunity to partner on a project, we took it in full swing. Collaborating across continents can be seen as a challenge on its own, especially when you add the Covid-19 pandemic to the mix. However, with our robust pre-existing ability to work remotely, it was a challenge we were excited to face.
Collaboration is key when it comes to unlocking new technology or business. But a common work location shouldn't, nor is it a prerequisite for a project to be successful. There seems to be this assumption that physical collaboration plays a large role in success for innovative digital products or services to succeed.
While remote working may appear to be a challenge, it can improve communication and help eliminate unnecessary discussions. Blind spots can also be avoided by bridging intercultural gaps across departments and borders.
The traditional approach to kicking off a project begins with workshops and briefings, usually face-to-face. However, with the pandemic hitting hard, we were all forced to operate remotely from day one. Through extensive research into our client's product field, followed by an intensive prototyping process, we were able to redefine our collaboration process to match the value of face-to-face meetings and deliver some amazing results.
So how did we succeed?
Reflecting on the project, the key to success was strong mutual respect and clear roles within the teams. Language and cultural barriers were overcome by selecting the appropriate team members who could bridge knowledge and interpersonal gaps. Having powerful technology on hand to facilitate remote research, workshops, and prototyping, helped us create a great team culture that fostered success, drove efficiency, and afforded us a bit of fun.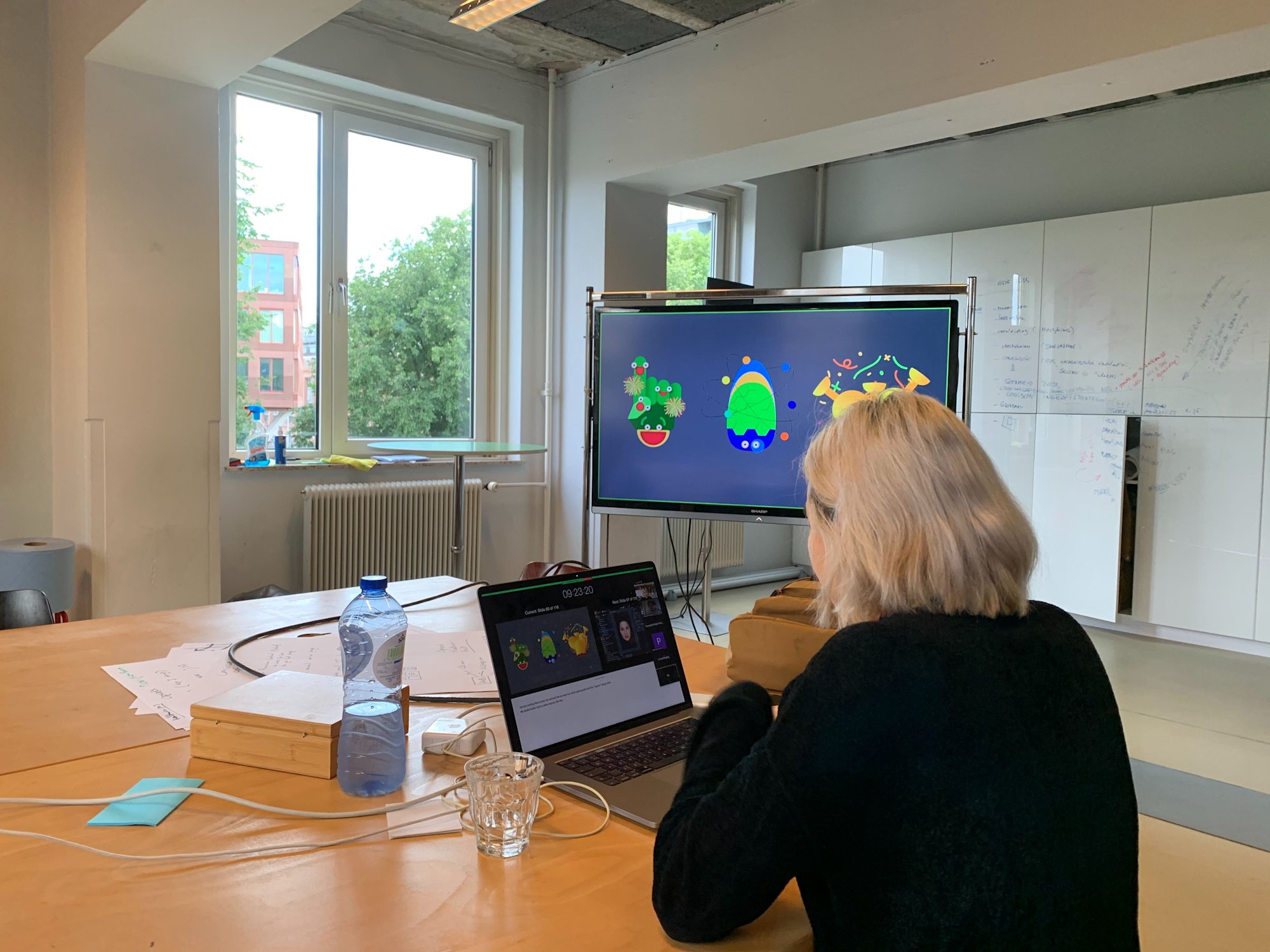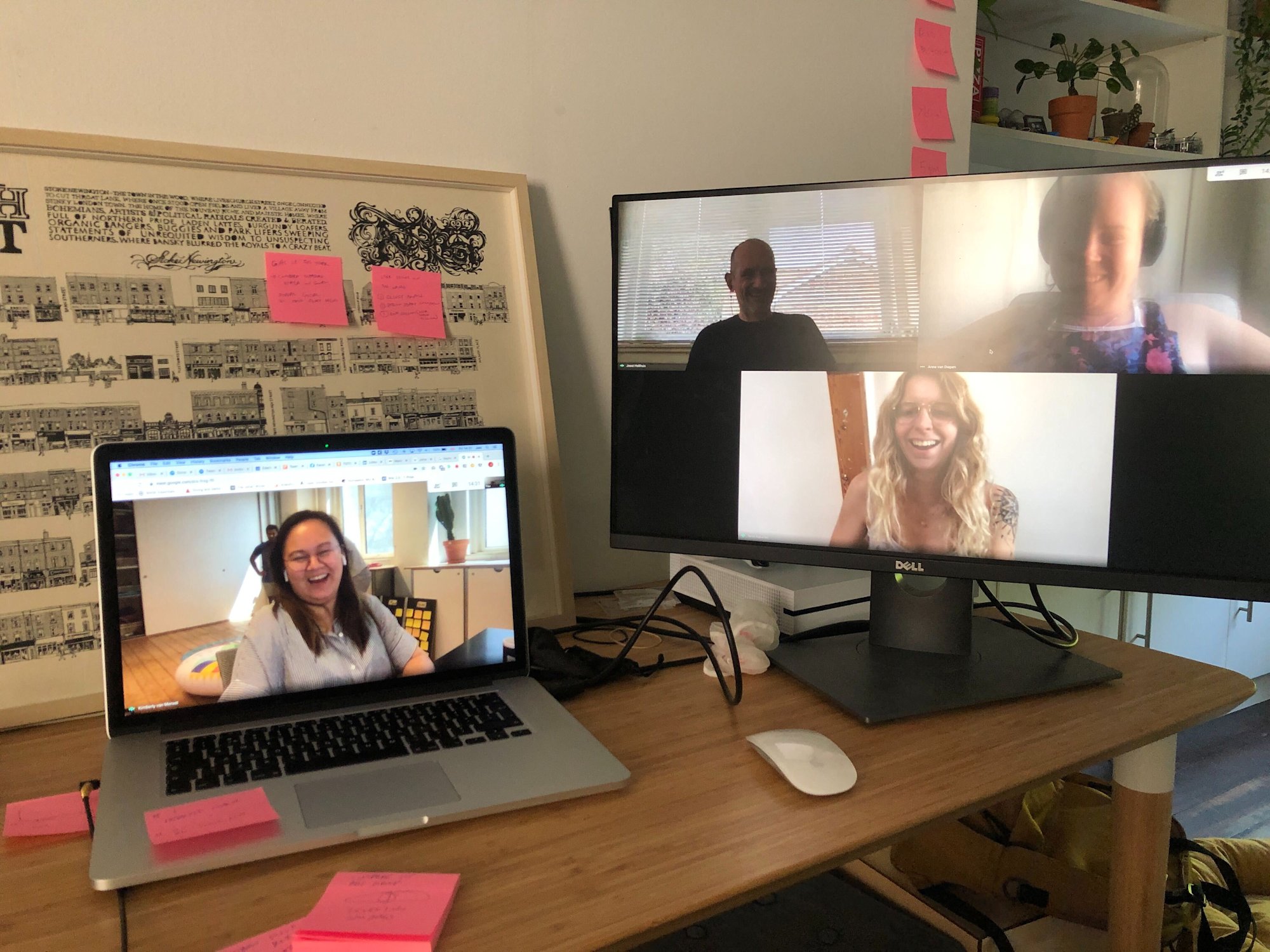 Our top tips and tricks on collaborating remotely
1. Use the right tools
To ensure that our digital work sessions are efficient and productive, we try to provide the teams with the right collaboration tools such as Zoom, Miro, Figma, and Slack. When connecting all team members with different time zones, the right tools play a large role in communicating clearly and effectively.
Our toolbox:
FIGMA: Digital prototyping tool
MIRO: Online collaborative whiteboard
ZOOM: Reliable platform for online calls and conferences
SLACK: Internal communication
LOOKBACK: Remote user testing
2. Schedule effectively
Collaborating online can cause a delay in critical interaction processes, such as reviewing and feedback. This becomes even more of an issue when working across different time zones. Ensure that you schedule in enough time to receive, process, and respond to any feedback from clients.
Naturally, things will get stuck. During any collaborative project, you often meet unexpected obstacles, especially in the midst of a pandemic. When working across continents, it is essential to be flexible and willing to adapt to your clients' needs and schedules. We found that going in open-minded was the best approach to overcoming issues that arose. It is essential to embrace failure with the right mentality and drive to keep innovating.
3. Build an A-team
The difference between success and failure is often a great team. We are lucky enough to have an international workforce, which meant that we could easily find the appropriate people who would suit the cultural collaboration between Asia and ourselves. Typically, it would be best if you had individuals who are understanding and can adapt to different working methods effectively and efficiently while still having the ability to generate innovative results.
To create the 'A-team', there are a variety of challenges that must be overcome. One of the most challenging things is striking a balance between building teams internally and externally. It is essential to have an aligned strong team within the organization, however, sourcing external team members can be a vital step in providing an alternative perspective. Weaving critical outside experts can help drive the right sense of change and grow the internal capabilities without losing a clear view of organizational reality.
4. Most importantly - create and innovate
Collaborating across continents offers you the opportunity to explore a completely new working culture. While this can feel frustrating at first, innovative and refreshing ideas can emerge from an international perspective. As both teams figure out how to adapt to a new way of working, exciting innovation patterns begin to emerge.
A top tip here is to be aware of the cultural difference with the teams you are working with before you begin. Understanding your client's culture provides you with the ability to predict their behavior and provide them with answers and the results they are looking for in an efficient and effective way.
We were thrilled to have the opportunity to work on this innovative project and look forward to continuing to innovate across the globe. For more examples of our international projects, check out our case studies, or gain more insights on achieving a proactive and design doing mentality, check out our Whitepaper.