Case Study
Alcon | Wear Lenses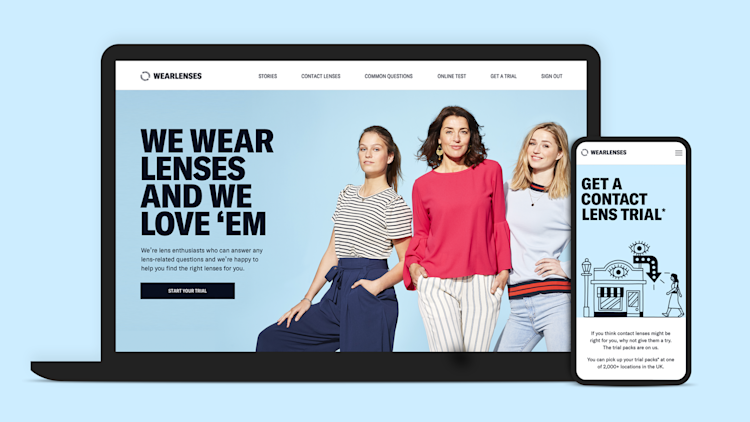 A renewed vision for e-commerce
Alcon (part of Novartis International) is the global leader in eye care, committed to helping people see better. Contact lenses and eye care products account for a significant share of Alcon's revenue.
Like most other industries, the contact lens industry is facing pressure from the influence of market movement and digital innovations. Forging and developing strong customer relationships is crucial in growing market-category share and building brand loyalty. In order to achieve this goal, potential customers must be engaged as early as possible on their customer journeys, not only directly, but also via influencers and distributors.
Rebuilding the lens platform with an eye on the big picture
Wearlenses was initially launched by Alcon in order to reach potential customers at the right moment in their search for the perfect contact lenses. It also provided an avenue for building strong relationships through an easy subscription service. The strategy was to engage the audience through market-optimized websites that provided content and guidance for lens wearers, and to build on the engagement with a personalized e-commerce environment for managing subscriptions. Other services, such as lens fittings, were offered through "back-end" collaborations with associated eye care professionals.
After Wearlenses was launched, results were suboptimal: customer value was not well-delivered, and the underperformance of the platform was leading to a low ROI for Alcon. A review revealed that Wearlenses was unable to meet a number of requirements with regards to brand positioning and recognizability, content, usability, and design quality. This meant that it was functioning neither as intended to generate leads, nor as a trusted source of relevant information for customers to build brand loyalty on.
Tasked with the goal of significantly improving the performance of the Wearlenses platform, senior members from the Brand and User Experience team of Edenspiekermann were onboarded. Starting with a thorough data analysis of the existing platform's performance, they then identified break-points and mapped updated customer journeys, based on the specific characteristics and needs of strategically identified target audiences. With the results of the analysis, they were thus able to recommend a repositioning, an overhauled UX/UI, and a new content strategy. An updated technology stack and development approach was also proposed.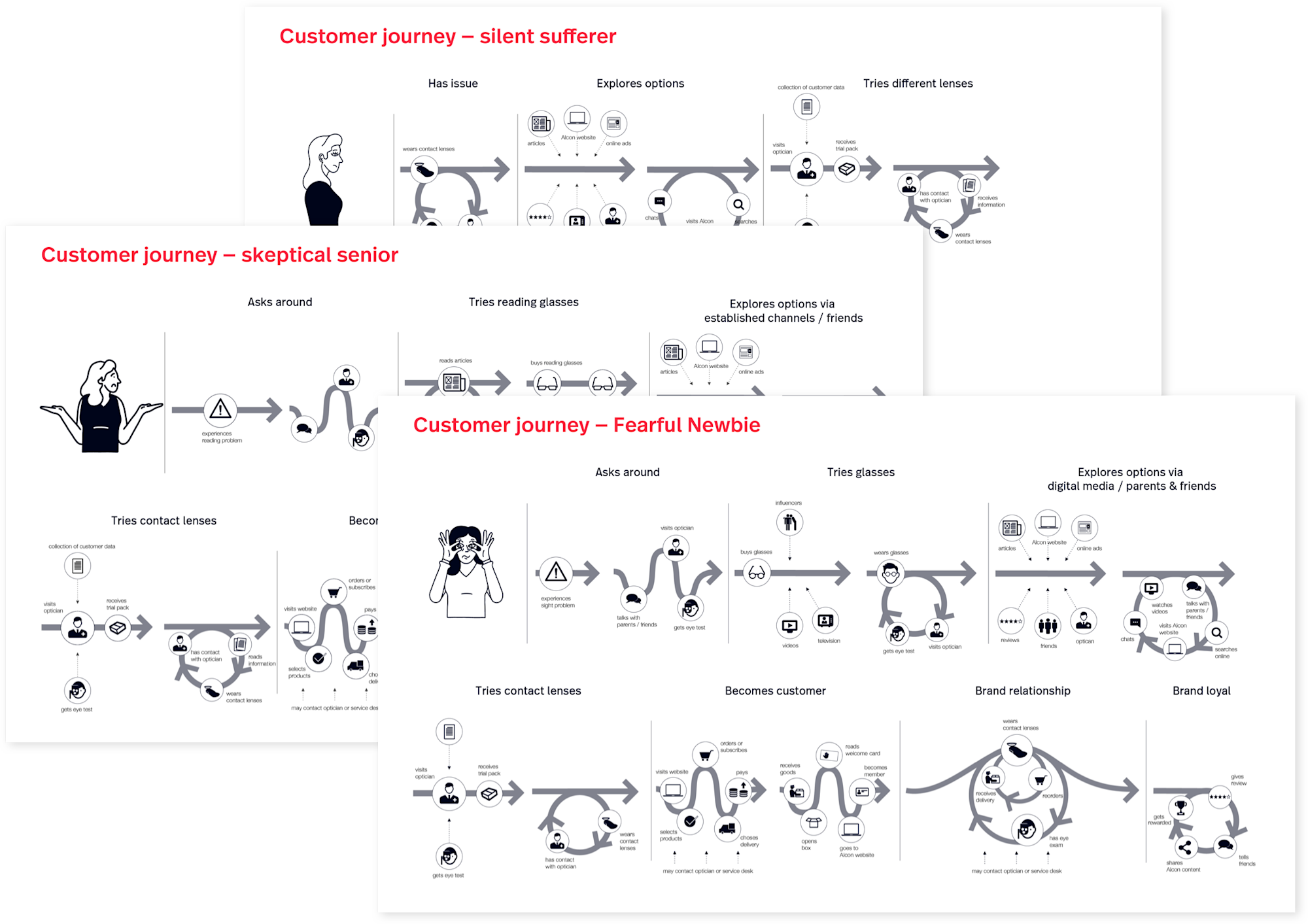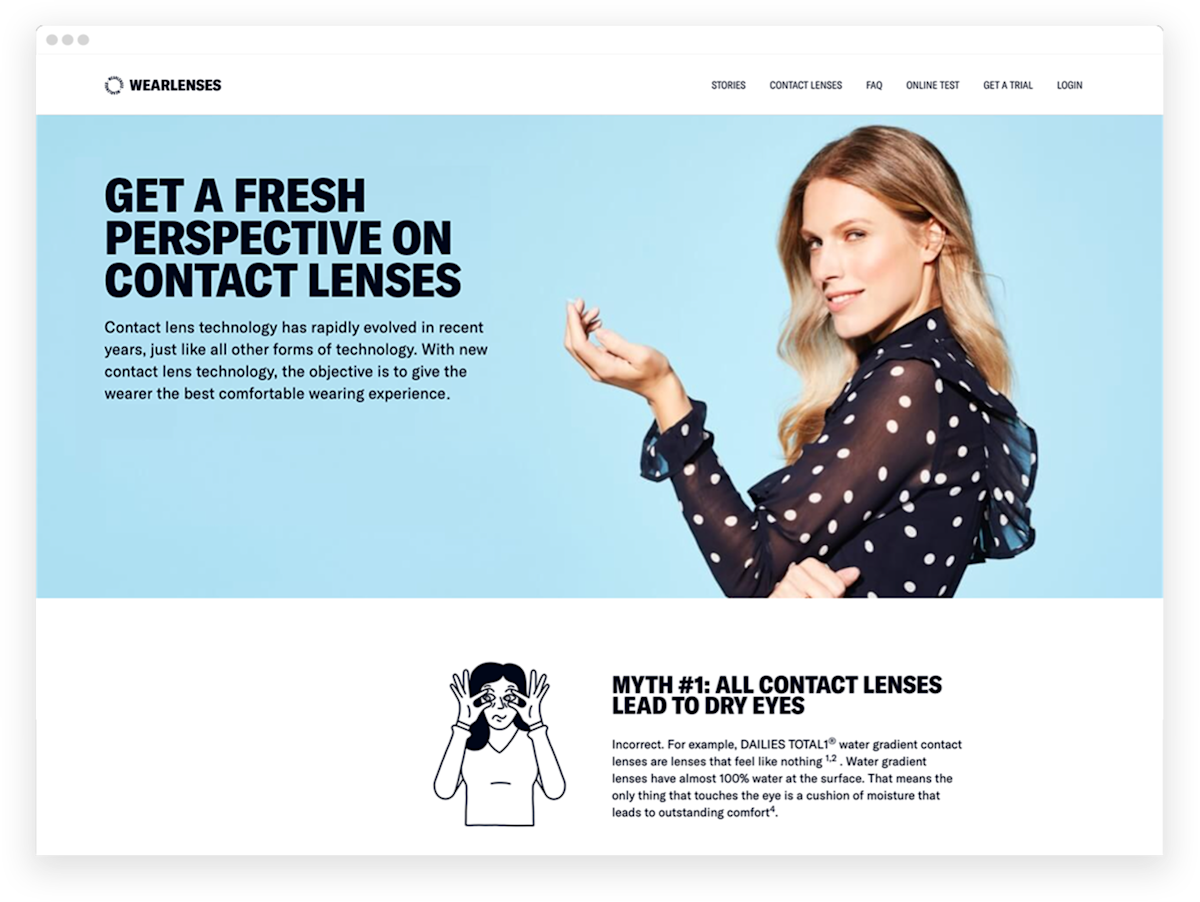 A platform for growth
Within a few months, and in close collaboration with the international Alcon team and the Swiss technology provider, we redesigned and developed the new Wearlenses platform, preparing it for further customization and phased launch in various global markets. The team also developed and introduced new relevant messaging and content for use in the platform and other parts of the marketing and customer journeys.
With this re-launch, Wearlenses is now well-positioned to develop more holistic customer engagements and experiences, create better visibility and relevance, and to innovate with add-ons such as interactive and personalized POS touch points.