Buying a used car – as simple as shopping online
Imagine buying your next used car by simply finding a great deal online. Purchasing the car from home with an extensive service package included. Peace of mind ensured after the deal is completed.
Over the past six months, we've been working with AutoScout24 to reinvent the way you can buy a used car online. Even if you really know a lot about cars, buying a used one can involve numerous uncertainties and unscheduled hassles. AutoScout24, Europe's biggest marketplace for used vehicles, wanted to do away with all that.
Insights
Billion worth in the used-car market in 2020

€

420

B

Every two weeks we asked for user feedback with end-to-end tests to iterate the service and de-risk the investment

2

weeks

of recent new vehicle buyers are open to completing their next vehicle purchase entirely online

70

%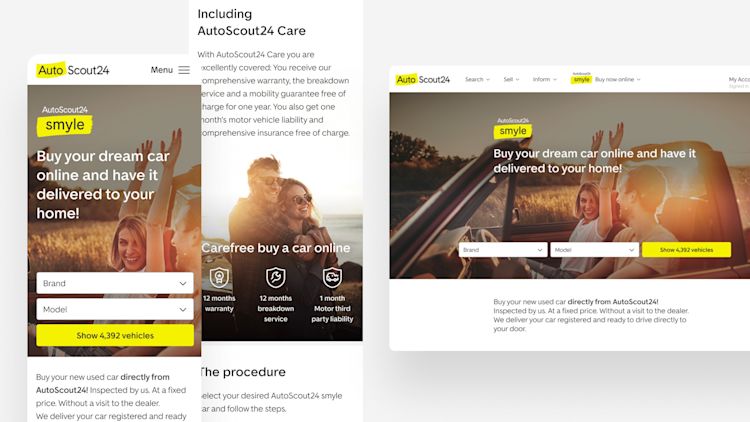 Creating the most convenient and trustworthy process
After undertaking wide-ranging qualitative user and competitor research, we realized that the online used car marketplace has two different requirements: making it easier for dealers to sell their cars, while ensuring customers will feel confident and supported during and after the purchasing process.
Bearing this in mind, our Edenspiekermann offices in Berlin and Los Angeles teamed up with AutoScout24's product and engineering teams to create the most convenient and trustworthy process to purchase a used car online – in an ambitious timeline. This involved understanding the way car dealerships operate and providing them with tools they could integrate into their daily workflows. All with the goal of best solving the used car buyers' needs.
Edenspiekermann was incredibly fast and thorough, converting a complex business model together with our internal teams into a premium user experience: a simple service that will save time and effort for dealers and clients. All of us here at AutoScout24 became big fans of the Edenspiekermann team. We were delighted by how well we worked together blending together into one highly effective team making a bold vision become reality in only a few months.

Felix Frank, CMO/CCO AutoScout24 and General Manager smyle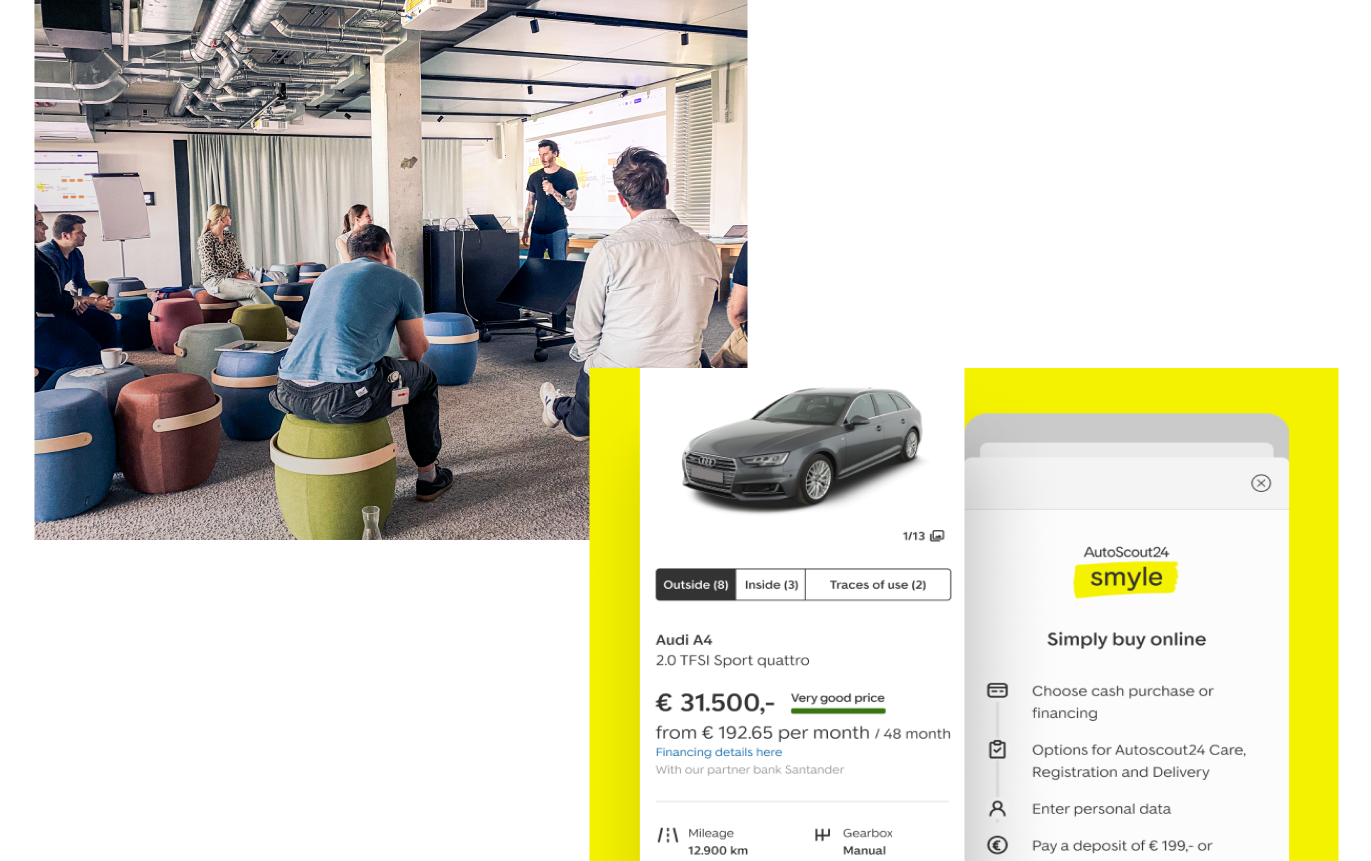 Introducing AutoScout24 smyle
AutoScout24 knows all there is to know about cars. What they want for their customers is that they can choose their car hassle-free. Our job was to simply make this process easier. To this end, we teamed up with the AutoScout24 team and developed a two-in-one service that ensures AutoScout24 smyle will make life easier for everyone involved in used cars.
In less than six months, we mapped the experiences for both dealers and customers, tested key hypotheses and delivered an end-to-end product that was iterated with users via pre-launch prototypes. We also conceptualized, named, and developed the brand identity of AutoScout24 smyle, helping them communicate it as a distinguished product within their core portfolio while leveraging their strong branding.
AutoScout24 smyle offers expertise, guidance and support to every customer who's buying a used car by streamlining the purchasing process and creating clarity at every step in the journey. Careful selection, trustworthy presentation, fast delivery and a hassle-free return policy – everything is looked after by AutoScout24 smyle.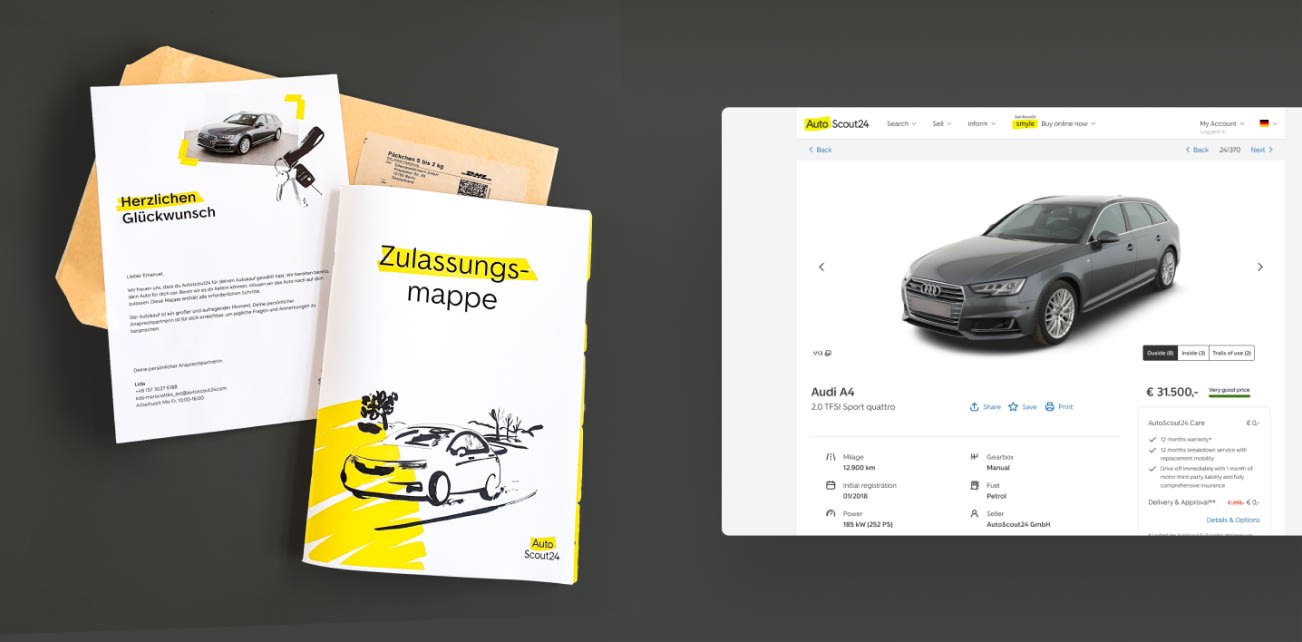 As makers at heart we love joining founding teams of ventures to help bring their service and product to live. With AutoScout24 we enjoyed the heavy emphasis on user research for on- and offline parts of the service de-risking their investments.

Michael Wiesemann, Partner at Edenspiekermann
Now that AutoScout24 smyle has now gone live, it is proving that buying a used car can be as easy as shopping online.