Crafting a mindful experience for a category leading wellbeing start-up
Have you ever wondered if you can influence your life energy? We live in demanding times and start-ups offering meditation for a more mindful lifestyle have grown exponentially.
The founding team of Inuvia, a new corporate-backed venture, approached us with an innovative approach to tackle mindfulness and wellbeing that most of us have never thought about: increasing physical and mental life-energy on our body's cell level.
We teamed up with Inuvia's core team to explore, strategize, design and build their subscription based business following a threefold approach: a personal self test recommends a plant-based product range, a holistic digital experience in the shape of a digital coach, personalized meditation and breathwork programs, and continuously health knowledge shared on their blog. All with the intention to be your companion developing healthy habits to grow your life energy intentionally — and grow a sustainable e-commerce alike.
An experience strategy for wellbeing
At the very beginning of this collaboration, the team of Inuvia approached us with a vision and a big idea. A digital lifestyle coach you can carry in your pocket. That helps you unlearn unhealthy patterns and replace them with a more mindful lifestyle.
Starting with an envision workshop we took the business model, the logic and the target group apart, reassembled and rebuilt the moving parts, to then mold it into a solid strategy that will enable sustainable growth for Inuvia. The digital wellbeing coach has been a main focus point in this process as it serves as the main driver for subscriptions, resulting in loyal long term users. What should a mindful user experience in a digital product look like? Making sure the subtle gamification, inviting design language, non-intrusive logic and rhythm really serve the end user. You do not want to annoy, but calm your users — every week.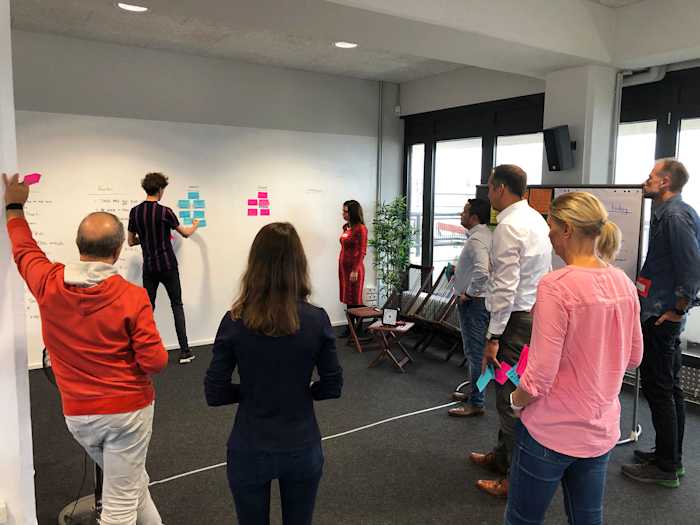 Designing to help us relate to the smallest parts of ourselves
The design and development of the inuvia website as an e-commerce and informative platform aims to create a welcoming environment for those looking for a healthier and more mindful lifestyle. Clean and simple design elements are creating a calm and pleasant reading flow so the visitors can take the time to inform themselves about the products as well as the science behind them. Understanding the importance of our cells and mitochondria will be the first step towards embracing products that will help those parts perform better.The brand is as much science as it is inherently human. The distinct design language express this and characterize the mitochondria based science the products are based on.
Our cells powerhouse
Thinking, laughing, sleeping, digesting, seeing down to the smallest blink of an eye: Everything we do requires energy. Our life energy has its origin in the smallest building blocks of the body: in the cells. More precisely, in the mitochondria, the energy power plants of the cells. They give us the energy we need every day — both physically and mentally. Only when they are fit and functional are we capable, resilient and adaptable and feel full of life energy.
We love joining founding teams of start-ups and corporate ventures to help build their product and business from scratch — especially in one of our core competence areas: health and wellbeing.

Christian Hanke, Edenspiekermann
A holistic approach
Unlike many others, Inuvia doesn't claim to rely on one magic pill. The start-up understood that the approach needs to be more holistic and wants to help its customers to get the most out of their products and empower them to take more responsibility for their mental and physical health. With a follow-up strategy, the customers not only get to shop the products but also inform themselves about news and articles from the mitochondrial world through the blog. Loads of inspiration, scientific knowledge, hands-on advice, and exercises.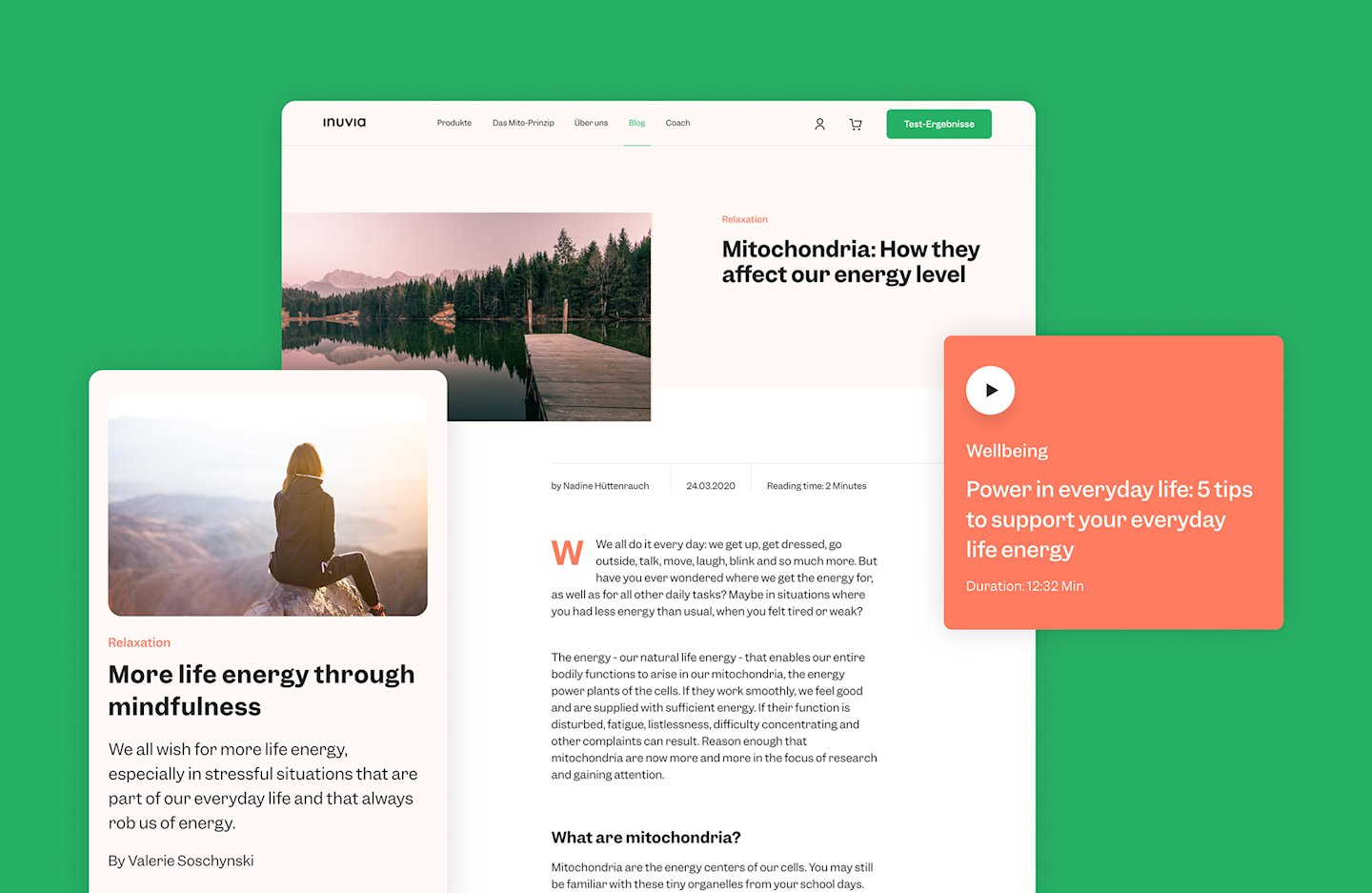 The coach
To effectively help people, you need to get to know them. That's why we went further than just creating an eCommerce environment. That's why visitors start witha 5-minute test to get insights about their life energy as one of the first touchpoints on the website. A trail of questions that helps match the customers' lifestyle with the best supplement for that person and gives them a life-energy score based on their answers.
With a purchase customers get access to the digital wellbeing coach, to enhance the products potential. The digital coach is a close companion to the user when it comes to building a healthier, mindful lifestyle. It connects the physical products in form of the supplement range with the digital to create a lifestyle changing and life-energy increasing experience.