Opening up the share universe
How do we make the transition from a fast-moving consumer goods offline brand to a multi-channel player with strong digital engagement? 
By establishing share as a one-stop-store for social consumption for new and existing customers through inspiring content and high quality products. 
We worked closely with the client to develop this goal step by step, enabling them to (re)build and continuously develop their online presence on their own: multi-channel, multi-product, one brand.
Insights
step research approach to explore, test and iterate

3

interviews to discover patterns on social consumption and key user needs

21

months from the first workshop to a launched digital product

5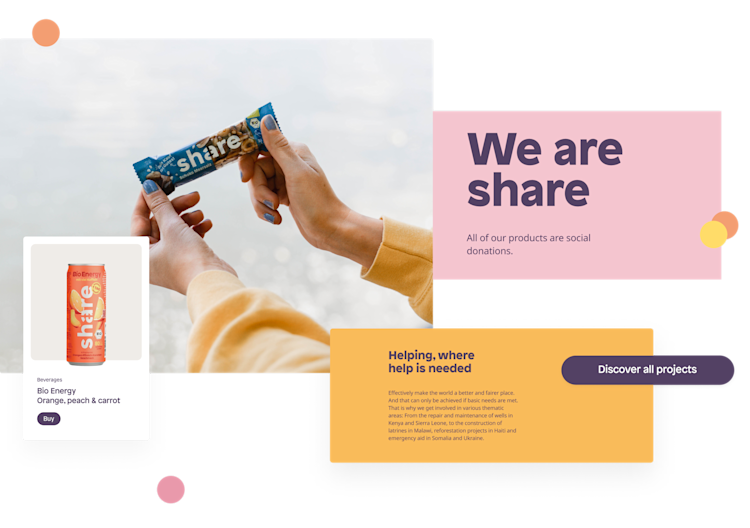 Explore
From hypotheses to user needs to a tangible value proposition
To create a goal-oriented ideation process, we used a three-step design research approach, starting with qualitative interviews and a resonance test to lay the foundation for content creation and concepts. The following validation phase allowed us to clearly derive and identify the most important needs to create a seamless user experience. 
We conducted numerous qualitative user interviews to understand what social consumption means and what users expect from the products. As a result, we identified user needs which were then translated into tangible insights and requirements to serve as the basis to refine the holistic strategic approach, creating a new design language, and enriching attributes about common user archetypes and behaviour patterns.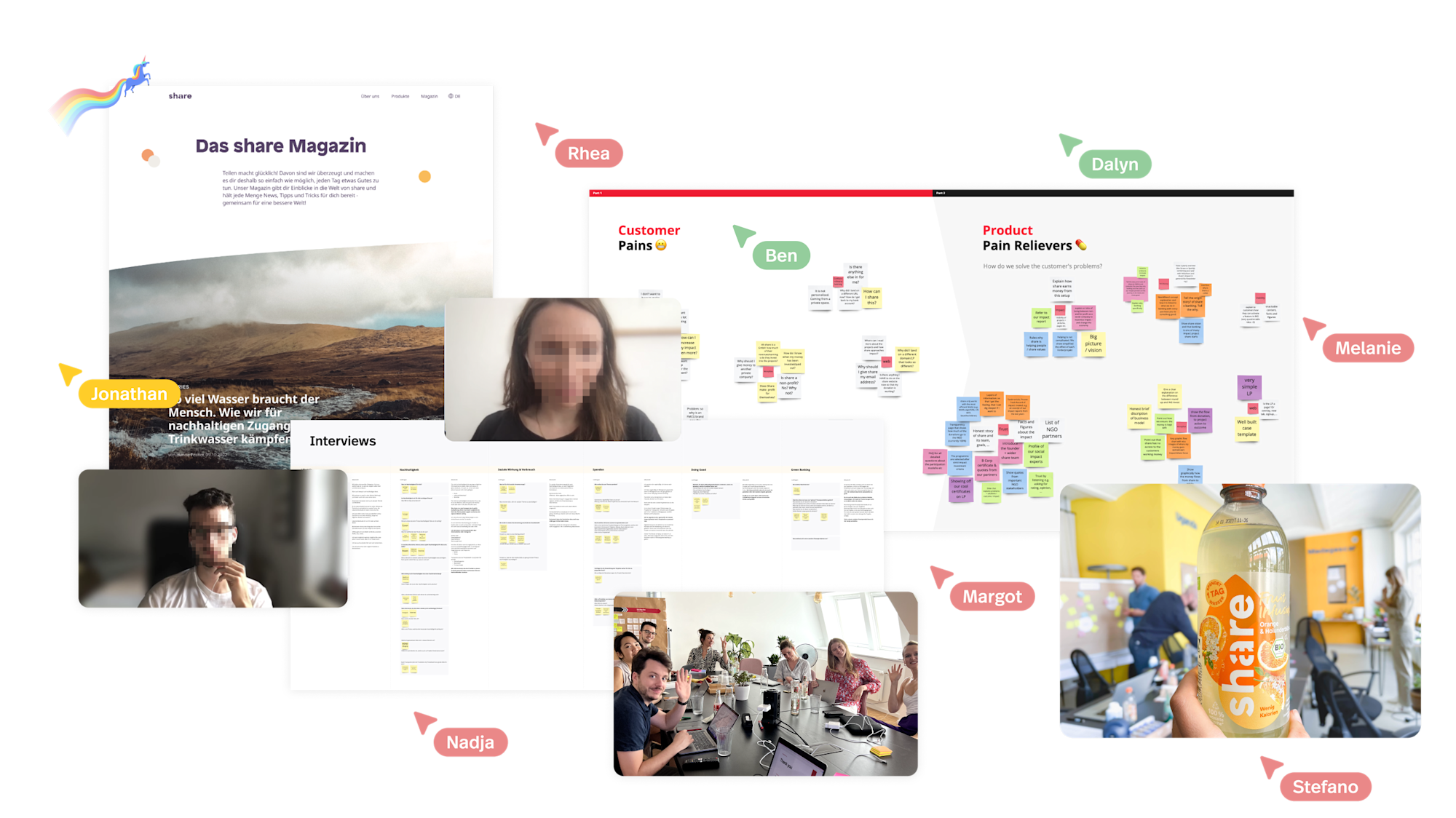 Strategize
Create a relevant, measurable content strategy to build loyalty and ultimately drive conversion
For the content strategy we defined two narrative spaces to serve as topics and keyword pools. Space 1, performance – topics based on keywords with relevant search volume of share customers to generate traffic. Space 2, aspirational – topics based on keywords that meet the high demand of the share community for inspirational stories and thus make the brand truly tangible.
Together with our content partner Nansen & Piccard and based on our identified key user and business requirements, we developed scalable formats with relevant content – and then defined all components from picture language, illustration style to copy. By building "Content Cookbooks" for each of those we enabled the share team to enlive the formats with their own content and to produce it in a quick and easy manner in the future.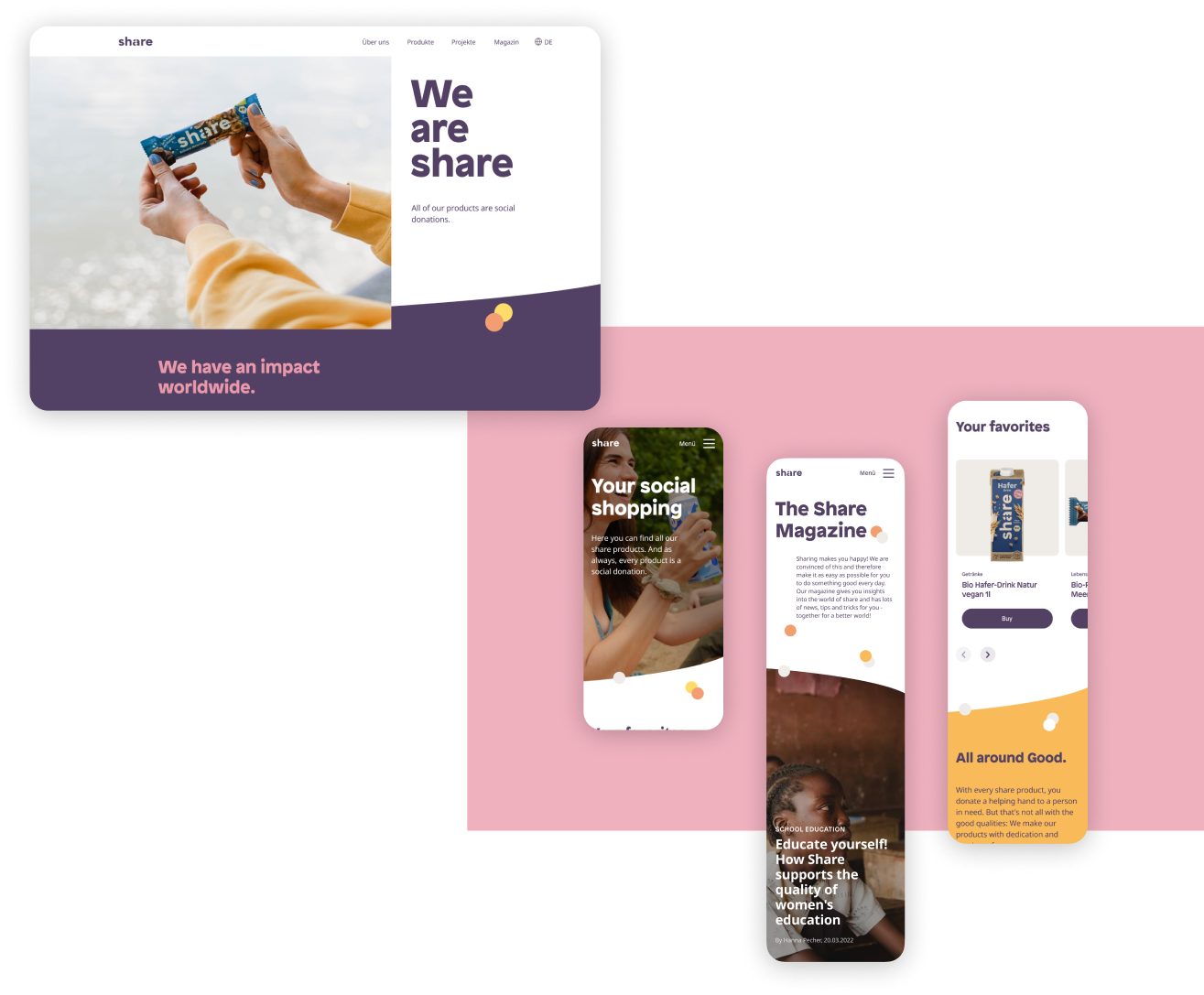 Collaborating with the Edenspiekermann team to build share's new digital realm was a great experience for everyone involved. Bringing together the expertise of both teams – working as one team – that's what made our collaboration a true success and delivered outstanding results.

Benjamin Deutscher, Share Director Online
Design
To move forward, you have to think ahead.
We created a new, comprehensive design library for share, adapted for current web standards. In short, this modular design system of different components and modules allows new requirements and formats to be put together without much effort and ensures that the brand always appears in the same look and feel. The goal of this system is to allow share to independently create content and build pages based on the developed components, as well as to extend them.
The scalability of the created elements as well as their reuse and adaptability in different contexts was of central importance in the creation of the designs as well as their implementation.
Build
Enable the team to (re)create and develop further share's online presence
The component-oriented approach of the design system carries over into development. Rather than focussing on page templates, we deliver a suite of reusable components.
These building blocks allow content authors to create an infinite amount of new pages, while mixing and matching different types of content and interactions. This flexibility allows for rapid experimentation and iteration. A short-notice landing page for an event? No problem.
Under the hood this system is powered by a few magic ingredients.
First, a headless CMS. For this project, Contentful was our provider of choice. Their enterprise level SaaS solution provides flexibility and space for growth saving content authors valuable time and assuring always up-to-date product information on the website. The website itself is powered by Next.js. This React based framework helps us deliver lightning-fast pages built on a core that is focussed on components, again aligning with our design system. 
Future growth was an important factor in all of these technical decisions. Setting up a platform that can grow and scale to meet future business needs. Whether it's a growing user base, additional integrations or experimentation. When you're trying to make an impact on the world, like share, it's best to come prepared!
With share we follow a holistic approach, aiming to create a digital product to excite and convince new and existing customers. It's at the core of our collaboration to enable the share team, so they can build on the foundation we have created together to eventually develop and extend their online platform independently.

Katharina Seeger, Edenspiekermann Management Team