Insights
Boarding at the Speed of Flight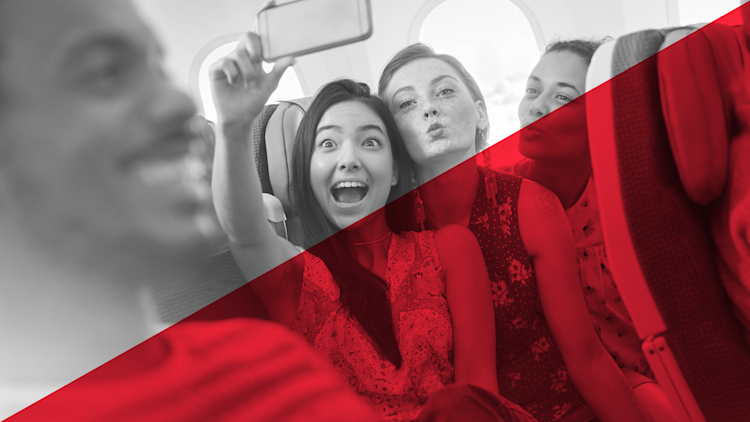 In close collaboration with Amsterdam Airport Schiphol and partners, we are helping to improve the passenger journey as well as the passenger experience by incorporating biometrics technology with design. Read more about Schiphol′s seamless biometrics flow below, originally published by FD weekend magazine, FD Persoonlijk.
Arriving at least two hours before departure and then being asked to wait? Good News: Schiphol is innovating check-in, security checks, and everything else to be faster and more efficient.
Although working and relaxing in business lounges is considered a luxury, it also means that most passengers are spending an unnecessary amount of time at airports. You know how it goes: "Due to possible long waiting times, KLM recommends that you arrive at Schiphol at least two hours before departure." Add in the fact that you are expected to arrive three hours in advance for intercontinental flights, so in some cases passengers are spending more time at Schiphol than on the actual plane. According to a study conducted by the Dutch Railways and the national airport in 2017, speed, convenience, and reliability were found to be the most important desire of travelers. So how can this process be made more efficient?
The necessary actions – such as check-in space, the security check, and border control –only take a few minutes during a quiet period. This is in contrast to peak hours where the infamous long queues can arise. For example, the American border guard publishes waiting times on its website for dozens of airports, albeit with a two-day delay. And while Schiphol shows the current waiting times on its app and site, virtually no other airport does that. The pain lies in the unpredictability of it all: we do not know how long we have to stand in line, so we arrive well ahead of time, resulting in passengers losing time at an airport, either because you shuffle from queue to queue, or because you can go to the gate so quickly that you end up having to kill time there.
Automatic check-in
The first of the regular transactions, check-in, has been considerably simplified over the years, with passengers increasingly able to use a boarding pass in the departure hall and at baggage drop-off. Since last year, passengers from Lufthansa, Brussels Airlines, Delta Airlines, and LOT Polish Airlines have opted to automatically receive their boarding pass by email prior to departure. The system checks them in, meaning they no longer have to think about it themselves.
Although passengers with elite status and travelers in premium classes are often given priority, they still fear hand luggage control just like everyone else. At a number of airports, such as Budapest and Luton, you can get around it by buying a fast track pass at a machine, costing you 5 or 7 euros respectively. Similarly, the US, known for its strict security controls, offers travelers who have been checked in advance a less intensive check. For example, they may keep their shoes, belt and jacket on. This less thorough control reduces the time passengers spend on the entire process to less than 5 minutes. Unfortunately, this service, the TSA PreCheck, is limited to Americans and permanent residents of the country, and is therefore less effective for all other incoming passengers.
Although these interventions have good intentions, they do not solve the problem. Queues remain unabated. The new generation of CT scanners, which allow you to keep liquids and laptops in the bag during the check, will ensure that passenger flows are accelerated.
A substantial amount of hand luggage is still manually searched after the security check, which gave reason for Duke University in Durham, North Carolina to work on the next generation of scanners. These new high-tech machines show the composition of liquids at the molecular level, requiring fewer cases to be opened and hand-checked. Unfortunately, there′s a bottleneck: the budget. "A hospital spends millions on a scanner which can screen four fairly predictable patients every hour. An airport, on the other hand, wants a device that can handle thousands of bags per hour, containing anything imaginable, for less than €100,000. This is what makes engineering airport security technology such a challenge", says Joel Greenberg, a researcher at Duke University.
Fingerprint scan
In 2001, Schiphol was the first major airport in the world to experiment with the use of biometric data of passengers. Privium members have since evaded queues at the Marechaussee by scanning their iris at a gate. This was followed by the introduction of passport scanners, which enabled any passenger with a European passport to get an automated check. The computer software works by comparing the passport photo with the person standing in front of the gate, meaning that military police are no longer required to view your passport, saving valuable time when it comes to the passenger's journey.
This is different for the return flight from a non-European country. While in the United States and Canada there is no passport control at all when leaving the country, the queues for passport control in China are notorious. Singapore, on the other hand, is a textbook example of efficiency: a fingerprint is registered there when every visitor arrives. When leaving the country you open the automatic gates at the Marechaussee by briefly placing your finger and boarding pass on a scanner. No stamps, no rows. And in Hong Kong, just about any adult with an airline savings card can register for the e-Channel Service, free of charge.
What about Schiphol? "The introduction of the program has been delayed in the Netherlands due to technical reasons and the new privacy regulations," said a spokesperson for the Ministry of Justice and Security on request. The expectation is that the system will commence here starting from October 2019.
Biometric airport
Last fall, Delta Airlines started with a biometric airport terminal in Atlanta, Georgia. There, all passengers first go through a one-time registration, after which they are recognized by cameras at check-in, baggage drop-off, security check, and the gate. That saves you searching for your passport and boarding pass on four separate occasions. The first results are promising, with biometric boarding saving on average nine minutes at the gate.
According to the aviation technology company responsible for this, Sita, two thirds of airports want to invest in biometric technology in the next three years. This is also the case with Schiphol. Together with KLM, the two started this month with a similar approach, by testing in Aruba, with passengers no longer needing their passport and boarding pass at the airport. "With a face scanner we reduce the number of checkpoints," says a spokesperson for Schiphol. "We hope that this will improve the traffic flow."
The last step on the way to another country, embarking, also takes a lot of time. To counteract this process, American companies add hierarchy to their passengers, with your position in the ranking determining when you can board: first wheelchair users, then first-class passengers, then soldiers, then platinum members, and so on. Does this effectively speed up the process? Not really. However, one method to speed things up is handing in your wheelchair before boarding, and picking it up along with your checked-in luggage. The disadvantage is that after landing you have to wait at the baggage claim, which only moves the problem forward. In short: time flies, except at the airport.
Originally written in Dutch by Daan Vermeer and published in FD Persoonlijk, FD weekend magazine.