Article
Berlin besuchen leicht gemacht / Easy access to Berlin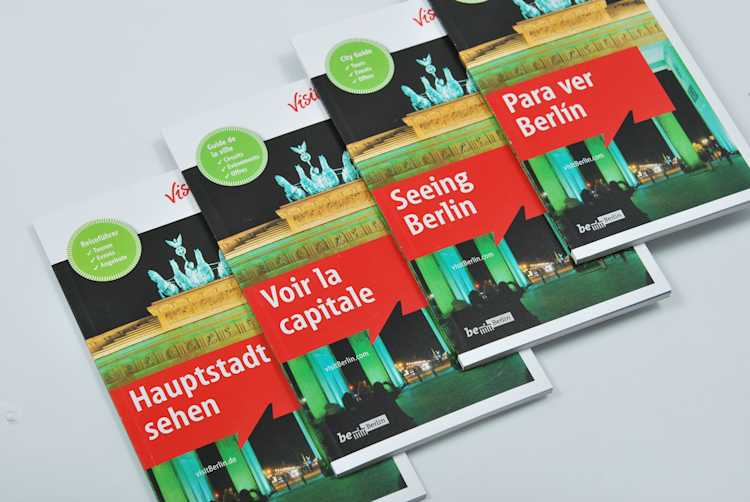 Please scroll down for English version.
Segelstunde auf dem Wannsee. Stürmischer Wind, die Jolle ist schnell. "Sachte, sachte", sagt der Lehrer, und ich versuche in Eile zu wenden. Lehrer greift ein: "Ich sagte doch sachte, und du ...?!" – "Ich weiss doch gar nicht, was das Wort bedeutet. Und woher kennst du überhaupt solche Ausdrücke?", wundere ich mich. – "Ist nicht schwer. Ich bin Deutscher. Der einzige unter euch", antwortet er mit breitem Lachen, "ein Berliner".
[readmore]Weiterlesen[/readmore]
Wir kucken uns an und müssen auch lachen: ein Kroate, eine Türkin, eine Finnin und er, der eindeutig aus Afrika stammende Echtberliner. So was kann nur hier passieren, dachte ich, und wahrscheinlich genau deswegen fühle ich mich in Berlin so wohl. Und seit 2011 arbeite ich auch für Berlin, genauer gesagt für visitBerlin, das Berliner Vielfalt in die Welt trägt und für jeden Besucher etwas Interessantes bietet: Jeder kennt wahrscheinlich die Berlin WelcomeCard oder hat irgendwann einen Stadtführer, Flyer oder Stadtplan von visitBerlin in der Hand gehalten.
Seit Ende letzten Jahres erscheinen diese Publikationen im neuen Look. Der Auslöser für die Zusammenarbeit mit Edenspiekermann war der Wunsch nach mehr Flexibilität in der Kommunikation unter einem neuen Namen. Da visitBerlin nicht nur in der Tourismusbranche tätig ist sondern auch als Kongressveranstalter, mussten die Kommunikation und das Erscheinungsbild überdacht werden: um eine differenzierte Ansprache der verschiedenen Zielgruppen zu ermöglichen. Dafür haben wir die Basiselemente des Erscheinungsbildes entwickelt, ein neues Konzept für die Printmedien erarbeitet und eine umfangreiche Piktogramm-Familie gestaltet – eigens für Berlin. Nun ist der größte Teil des Projekts geschafft.
Unsere Zusammenarbeit mit visitBerlin geht weiter; immer mal wieder dürfen wir eine extra Publikation oder ein weiteres Icon gestalten.
Doch für einen Törn auf dem Wannsee bleibt immer noch mal Zeit.
English:
visitBerlin makes access to the city easy: for tourists, investors – and hobby sailors.
Sailing lessons on the Wannsee. Stormy wind, and the jolly-boat is fast. "Sachte, sachte" ("Gently, gently"), says the teacher, and I try to turn hastily. He says: "I said gently, and you ...?!" – "I don't even know what that word means. And how comes you know such German expressions?", I wonder. "That's not difficult. I am German. The only one amongst us", he answers with a big smile, "a Berliner".
We look at each other and burst out laughing: a Croatian, a Turk, a Finn and him, the original Berliner, evidently originating from Africa. Such thing can only happen here, I thought, and probably this is exactly the reason why I feel so good in Berlin. And since 2011 I even work for Berlin, that is, for visitBerlin, who carries Berlin diversity into the world and offers something interesting for every visitor. Nearly every visitor is aware of the Berlin WelcomeCard, or has had a city guide, a flyer or a city map by visitBerlin in their hands.
Since end of last year, these publications have a new look. The trigger for the cooperation with Edenspiekermannn was the desire for more flexible communications under a new name. As visitBerlin is not only active in the field of tourism, but also as an organizer of conventions, their communications and appearance had to be rethought completely to allow a differentiated addressing of the various target groups. Therefore, we developed the basic elements for their new appearance, a new concept for the print media and an extensive family of icons – specifically for Berlin.
Now the biggest part of the project is done. Our cooperation with visitBerlin continues; every now and then we are asked to design a new publication or a new icon.
But there still is some time for a sailing trip on the Wannsee.
Eine besondere Projektanforderung waren die Markenarchitektur und die Entwicklung des eigenständigen Auftritts, ohne die Nähe zur Dachmarke beBerlin zu verlieren. /
A special challenge was the brand architecture and the development of the distinct appearance without losing the connection to the umbrella brand beBerlin.
Auch die Hotelbranche profitiert von dem Know-how und der Vernetzung von visitBerlin. /
Also the hotel branches benefits from the know-how and the network of visitBerlin.
Laut oder schlicht – alles erlaubt. Das neue Erscheinungsbild von visitBerlin ist stark und flexibel zugleich. Es ermöglicht verschiedene Zielgruppen aus den Bereichen B-to-B und B-to-C differenziert anzusprechen. /
Loud or modest – everything is allowed. The new appearance of visitBerlin is both strong and flexible. The different B-to-B and B-to-C target groups can be addressed in a differentiated way.
Internationales Publikum: Viele Publikationen erscheinen in vier bis sechs Sprachen. Gerade bei mehrsprachigen Publikationen sind die Piktogramme extrem hilfreich; sie schaffen Übersicht, sparen Platz, sind Sympathieträger. /
International audience: Many print media are published in four to six languages. Special multilingual publication icons are extremely helpful; they provide clarity, save space and are very appealing.
Fotos: Edenspiekermann
Fotos: Edenspiekermann