News
Edenspiekermann Launches Eight News Portals for AZ Medien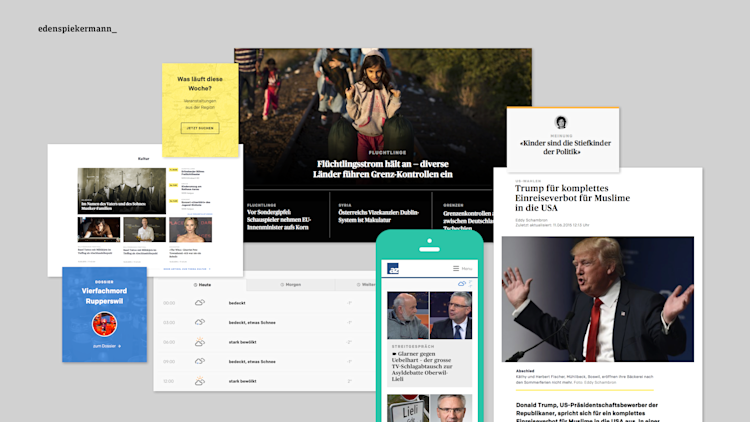 We are proud to announce that today we launched the new web presence for AZ Medien's Swiss regional newspaper network "az nordwestschweiz". With this project, we are expanding our focus to the fields of digital editorial and the Swiss publishing industry.
The team at AZ Medien Digital worked together with us to fundamentally overhaul their online offerings and to conceptualise new, user-centric formats, like the Card Builder – a simple CMS that allows editors to easily build stories with cards. The essential feature of the new, responsive website is a thoroughly reworked platform for hyperlocal user-generated content. For the network, consisting of eight regional newspapers, this forms a significant cornerstone for the reporting of local news.
Parallel to the work on the website, the CMS workflow was re-conceptualised as part of an intensive co-creation process with the editors. The resulting architecture represents a radical system restructure designed to meet changing needs. A common working basis for the team and external partners can be found in the newly created frontend component library.
Edenspiekermann supervised the project from research and conceptualization, editorial workshops and design through to frontend programming, implementing a flexible and user-centric design process at every stage.
On the 20th of January 2016 we're launching: www.aargauerzeitung.ch
www.badenertagblatt.ch
www.basellandschaftlichezeitung.ch
www.bzbasel.ch
www.limmattalerzeitung.ch
www.solothurnerzeitung.ch
www.grenchnertagblatt.ch
www.oltnertagblatt.ch
Project Duration: 12 Months
Project Team: Christian Hanke, Moritz Guth, Matt Berridge, Sharon Walsh, Andrea Franke, Lorenz Seeger, Peter Magenheimer, Richard Bausek, Sebastian Saariokari, Peter Rudolph, Michael Börner, Kati Krause, Hugo Giraudel, Bastian Boss, Marco Hamersma.