News
New leadership for Edenspiekermann Berlin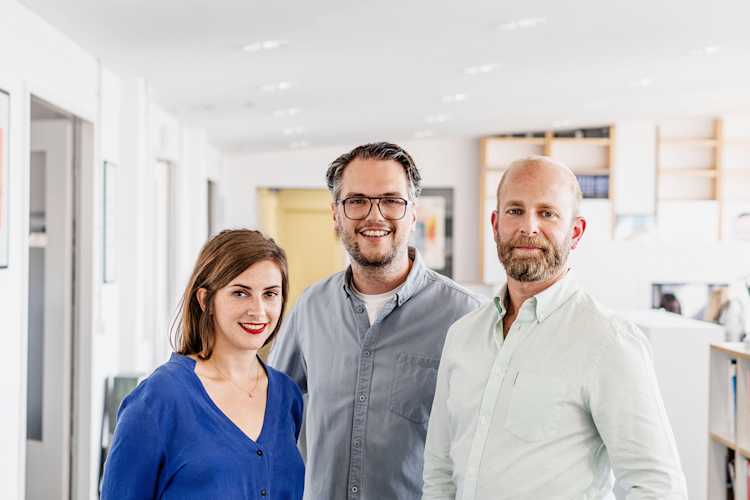 Read the full article in German on W&V magazine
Katharina Seeger, alongside Christian Hanke and Michael Wiesemann, completes the newly formed management of the Berlin agency. The growth course is to be continued.
Edenspiekermann has made a name for itself internationally with design and digital product expertise. But the Berliners want more. The agency set the new course at the end of 2018: Since then, Edenspiekermann has been pushing their "development towards holistic design consultancy" intensively. Edenspiekermann's range of consulting services focuses on digital g.owth strategies – for clients from the healthcare & digital health, mobility and media sectors, amongst others.
In order to achieve the growth targets it had set itself "and to simultaneously guarantee advice, design, and implementation at the highest level", Edenspiekermann recently strengthened the team significantly and filled numerous key positions. There are now more than 50 people working in the Berlin office – growing. In addition, the collaboration with the Edenspiekermann offices in Amsterdam and Los Angeles has been significantly expanded.
Investments that appear to be paying off: In the past few months, the agency has been able to win digital budgets from renowned clients, including the medical technology group Sonova, the Gabor Steingarts media brand ThePioneer, HUK24 and The Greens. Due to the firm anchoring in digital transformation projects, the Corona crisis has so far not been able to dissuade Berliners from growth. "User-centered prototyping of digital strategies and their gradual further development form the core of our range of services," explains Michael Wiesemann, Managing Director and Partner at Edenspiekermann. "In this way, we achieve concrete, measurable results in the shortest possible time – even with complex challenges."
New agency management
The strategic development to design consultancy is significantly shaped by the new, three-member management team. At the beginning of the year, the two partners Christian Hanke (38) and Michael Wiesemann (41) took over the management of Edenspiekermann Berlin. The management trio is now completed by Creative Director Katharina Seeger (34). The three complement each other with their expertise in the areas of innovation, design, product development and strategy in the sense of realignment. Katharina Seeger joined Edenspiekermann about a year and a half ago. Until 2018 she was the Lead Strategic Designer at BCG Digital Ventures, where she mainly developed the development of user-centered digital products, such as the peer2peer Carsharing Service Croove for Daimler. Prior to that, she was head of design for IXDS Service Design and UX projects for several years and was part of the "Future Research and Trend Transfer" team at Volkswagen.
Praise came from the highest level: "I am proud of the development Edenspiekermann has undergone in the past year and a half," says Erik Spiekermann, founder of the agency and chairman of the supervisory board. "Because, despite all the necessary changes, Katharina, Christian and Michael have managed to stay true to our design-driven culture and built new strength from it."