Article
Oklahoma? What innovators can learn from BMX legend Mat Hoffman.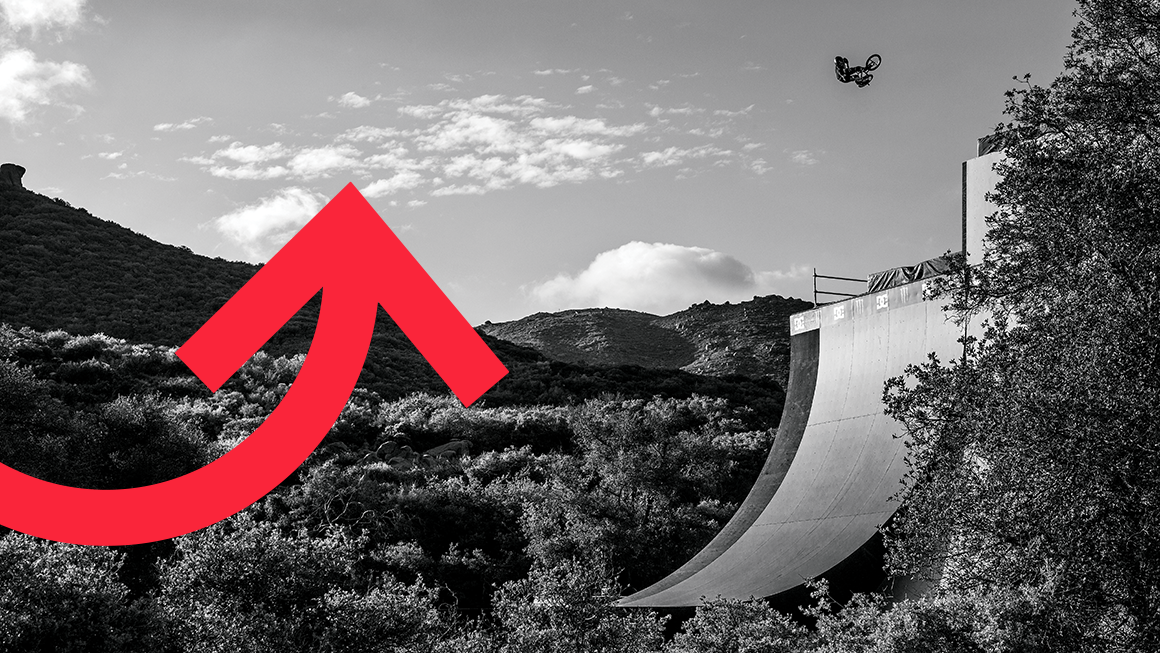 When I was raised, verts and half-pipes began to appear in local parks in many countries but they were still only for the brave. I got my first BMX at 8 and quickly learned that riding half-pipes or even doing tricks required a different kind of amygdala than the one I possessed. I was too scared to be good! When I watched the Vice documentary about Mat Hoffman, the unrivalled BMX vert god, I understood what I loved most about it: the uncompromised mentality of getting it done. Some lessons stick with you – and now that I run a design and innovation firm I believe people aiming for real progress can learn a lot from Mat Hoffman.
In the 80s, the West Coast was where almost all the BMX cool kids were showing off their new vert tricks. Suddenly videos of a guy performing unbelievably high jumps emerged. There was a rumor that he was from Oklahoma. A place far removed from West Coast's laid-back vibe.
Mat learned to ride his BMX alone, without other riders to emulate. He began building his own ramps in Oklahoma. When Mats' dad pushed him to enter a competition aged 11, he won against the established BMX elites. His winning streak continued for a very long time, much to his surprise.
Mat Hoffman was just doing exactly what he loved doing – flying. He is called 'the Condor' because he thought like one. He wanted to go higher for the sake of it. So when the thermals were not pushing him high enough, he built bigger and bigger ramps and verts just to learn that defying gravity wasn't the only thing he needed to do. Mat Hoffman's mindset has direct parallels with a true innovation mentality.
If you want to experience all of the successes and pleasure in life, you have to be willing to accept all the pain and failure that comes with it.

Mat Hoffman
Nobody could stop Mat Hoffman from building the biggest vert ever. Home of the toughest riders even thought he was completely insane. He had learned while he trained that unconsciousness and broken bones were part of his quest and a high price to pay at times. The only thing higher was his threshold for disappointment. After the big 80's BMX hype, the sport fell out of favor and became an ultra-niche sport. There were no sponsors, competitions or shows. For Mat, that also meant no income. He had to run his own show. So he began to travel from state to state, tirelessly performing with groups of friends at local malls.
That begs the question – why didn't Mat give up and get a job? I think it's because Mat's singular purpose was getting on the bike and fly higher than anyone else, ever. It's called irrational dedication; my favorite attribute of any innovation-driven person. Believing in something and sticking with it. You have to keep going, even if your project is sidelined, and nobody is listening anymore. It's hard to steer your course in large corporations that are strongly driven by politics and power-plays. But your dedication will radiate energy and help you keep your stakeholders on board. You have to keep on finding new narratives and angles. Keep selling your dream like a pro until someone sees it one day. For Mat, that someone was ESPN. They established the X-Games, and BMX was reborn into a new era. The rest is history.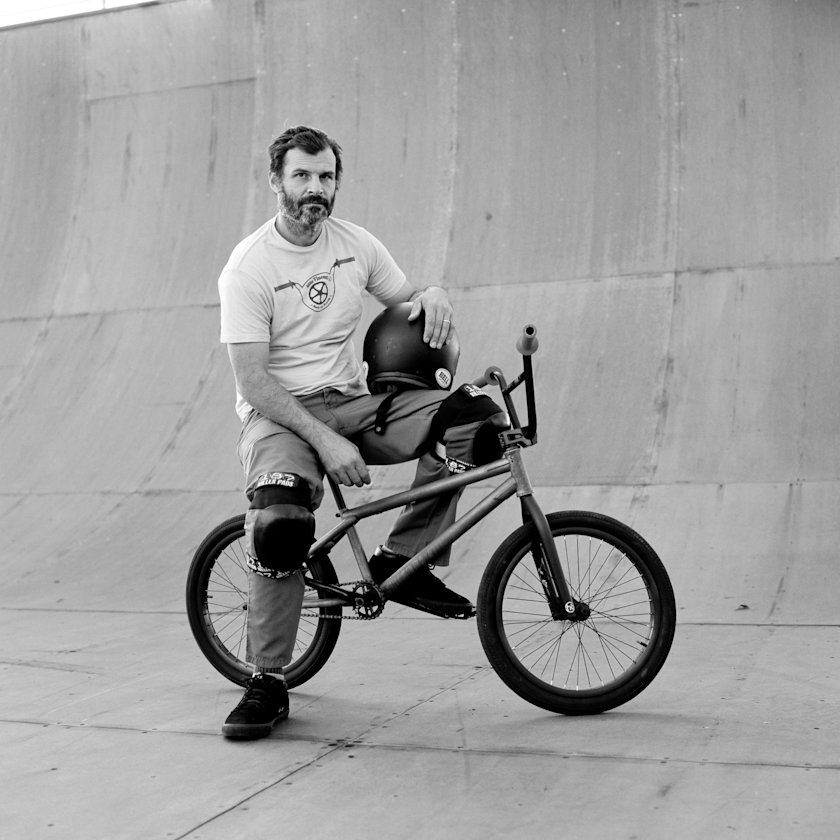 Try like Mat
Many of the most talented people and teams get stuck in rigid paradigms, theories, and methodologies. They theorize too much or hope that will find a successful solution by adhering to a list of prescribed steps. Innovation theory is expanding all the time. There seem to be more diagrams, books, webinars, and must-reads by the day – even while the foundations of innovation have not changed. At one point you just have to try, do, retry and re-do.
In many ways, it's like pedaling on a BMX. There is a physical limit to how fast you can pedal. Doing 12,000 burpees a day will make you a bit faster. So will a good diet.. But that still is very much thinking inside of the box. It will have some benefit, but it won't make you fast enough to defy gravity. You won't defy gravity unless you beat it at its own game. When the ramps got higher – and it became tougher to pedal and use the ramps to gain the velocity to do those jumps –Mat taped an engine to his BMX, found a dirtbike to pull him to the right speed, and built a launch pad on top of his parents house. He defied gravity. As he was reaching a new level He learned the new rules and principles in order to level-up.
Every innovation team's purpose should be to venture out into unchartered territory, ignore processes and look sideways. They should ditch the methodology, bring in the madness and think like Mat Hoffman. Every team member should ask themselves: what will it take to get it done? Some ridiculous, new or unexpected things might need to happen in order for another idea to break through.
Know the bloody limit like Mat
Mat's pain threshold, broken bones, cuts, and concussions didn't stop him from going further. He built a new ramp and invited a TV crew to show he could beat his own record. But Mat learned that he had reached his limit the hard way while trying to deliver the proof. It's painfully sad to see the image of his wife crying next to him as he lay unconscious. When he woke up in the hospital, he knew that it was time to stop. It was not only because he felt responsible for his family but also because he wasn't doing it for himself anymore. He was doing it for TV – for others.
Two very common practices in innovation are not knowing when to stop and to keep chasing an impossible goal, despite the signs that are telling you otherwise. Taking too big of a step means overlooking the essentials that may result in a dangerous outcome. Whether it's your bones – as in Mat's case – or the financial health of your endeavor. It gets easier to manage the risks over a longer period of time and keep your eyes on the original objective when you implement simple, stage-gating processes and progress in small, incremental steps. That way, you remain in control about the path you're on and stay realistic about the goals you set out to achieve. You will be able to notice the signs that are telling you to stop without getting hijacked by internal politics or established frameworks – and then start on something new. After resigning from acts of dare-devilism, Mat accepted a Lifetime Achievement Award. When he stood up on the podium, he said, "I feel like I'm just getting started. Here's to tomorrow." That new thing was skydiving while riding a BMX.
Mat's BMX legacy will be the benchmark for a very long time, maybe even forever. He developed more than 100 revolutionary tricks like the Flip Faki, Flair. He also remains the first person to ever successfully execute a no-handed 900 in a competition. For ordinary mortals like us, that is the stuff of superheroes.
If you need inspiration to get innovation done – just look sideways. Don't copy, ever. If it's out there already, it won't be innovative . Don't look at what other companies are doing. Don't use IBM, Apple, Google, and other corporations as an example. Find your own path and be inspired by more than just the content that's available out there. And don't forget to have fun while you're doing it. Add a sprinkling of Mat's joie de vivre and mentality wherever you go, and you will get better results.
Rethink your thinking
Watch The birth of big vert
Photography licensed by > Mike Blabac and George Marshall