Events
Service Design Days: In Case You Forgot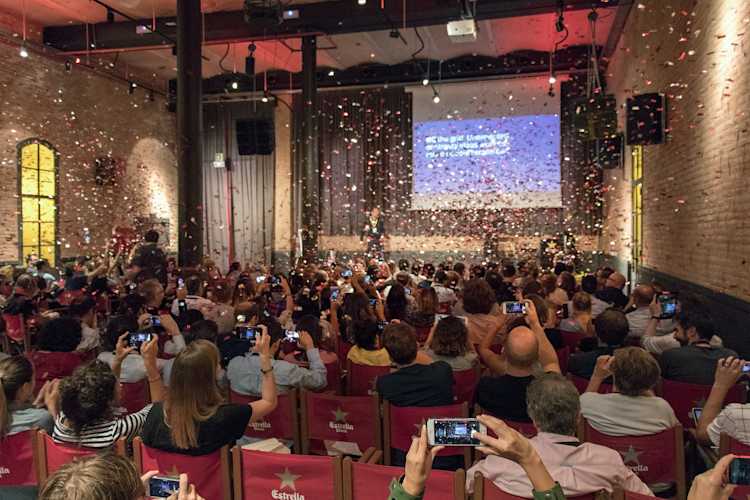 Cheers to the Service Design Days
The old beer brewery of Estrella Damm served as the background for two awesome Service Design Days in Barcelona, the first event of its kind, focusing on service design for decision makers. Keynotes and masterclasses offered new ideas, best-practices and tools to over 200 business leaders and creatives. The flawless organization and quality of the program and audience made it feel like it had been running for years, so we'd love to give a shout-out to the team, and Inge Keizer in particular.
Just to refresh your memory
Our Creative Directors Joost Holthuis and Jonne Kuyt were the last speakers, ending the program on Saturday. But instead of doing a standardized template keynote, they presented a tailor-made keynote based on two days of researching the audience. The beer-thirsty audience was presented with additional questions, treats, insights and cold beers, and the big bang ending proved their point of always leaving on a high note. If you need the presentation for your own story, a snackable version of the keynote is available for download here: snacks.edenspiekermann.com. Or watch the big bang end here… Cheers!
But wait, there's more
Glitch podcast was present too. Hosted by David Linssen and Joost Holthuis, the Glitch Service Design Days special will provide in-depth interviews and reflections on the program, with a few special episodes (all in English) on service design featuring speakers like IBM's Doug Powell, Telefonica's Remko Vermeulen, IDEO's Barbara Franz and Kike Alonso. Available soon. Don't miss out. Never an error always a glitch.show.
See you at the next Service Design Days on 5-7 October 2017!
__Photo credits: [The Service Design Days](https://www.flickr.com/photos/145327002@N06/albums/72157676388907465)__