Article
Welcome to Super Service City!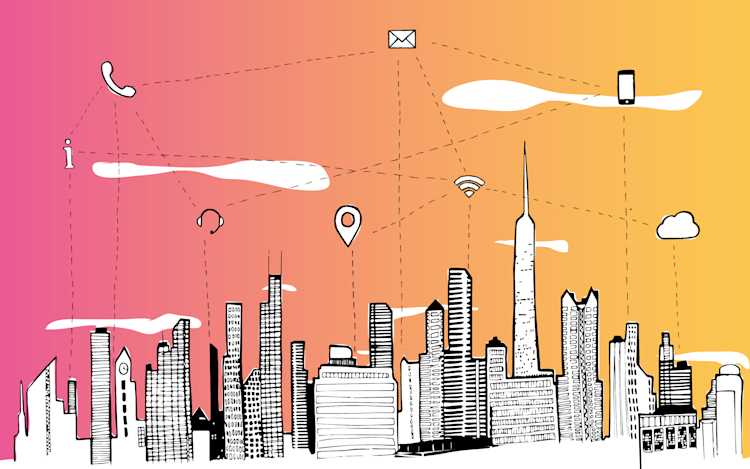 Imagine a company that enables its employees to take part in a workshop where they are allowed to play. It's a world without reservations, where no distinction is made between digital and analogue. The world is one where company and customer are the best of friends. There are no complaints. Bad service does not exist! Welcome to the ideal world – welcome to Super Service City.
This fictitious world was to be shaped for an employee event of the energy company Total Deutschland GmbH. Edenspiekermann's service design team cooperated with Totals's service hotline employees to achieve the dream.
The title "Analogue and Digital – the Best of Both Worlds" provided the thematic framework for the event. More than one hundred employees from all over Germany came to Berlin in two groups for two days to learn about this exciting topic. Participants were offered techniques for team building, e.g. in the form of a jump-and-run game and a workshop that Edenspiekermann tailored specifically with the Total employees' event in mind.
The Super Service City Workshop was intended, however, to do far more than dissolve the boundaries between digital and analogue. The aim was also to make comprehensible and tangible the chances and opportunities digitization offers for the service experience.
Before the participants played at three different stations, Robert Stulle (a partner at Edenspiekermann), and Nicola Bergau (head of online heating oil trading at Total) gave presentations that set the tone. Using examples from the present and future, both speakers shed light on internal and external perspectives and prepared the Total employees for the exciting journey into the digital service future.
Every single employee was called on to build Super Service City. Divided into teams, they each made their own individual and creative contribution. Part and parcel of the rules were trying things out, variety and having fun.
Very individual expertise could be put to the test at three stations. A few of the participants took their first steps into the digital world those days as well.
The service design team put a great deal of work into ensuring a well-balanced level of difficulty. Participants already familiar with digitization were not to become bored. At the same time, no one was to feel overwhelmed or marginalized. Dealing with mobile devices, QR codes, digital music and drawing programs, including addressing technology issues of the future, were to take place in a relaxed way to make learning fun.
Participants could virtually experience hands-on that the best solutions arise only through interplay between analogue and digital. Take music, for example. The combination of analogue and digital musical instruments produces the most diverse sounds. The table tennis ball toss required just as much skill as navigating blind with the computer mouse in order to win as many points as possible for the team. And the most exciting advertising slogans could only develop if the combination of the digital present and analogue tradition was just right.
After the teams spent an hour and a half playing their way around the stations they all came back together to present to each other the Super Service City concepts they had worked out.
The creative results, enthusiastic input of every single participant and the positive feedback we received confirmed our method. Outstanding employee events can be conceived using service design.
Company functions such as these are sometimes used as compulsory get-togethers. Their real potential is underestimated and neglected. Total has understood that it is precisely these events that contribute to sustainable employee motivation. The priority here is not imparting content. Our task was to place the focus on the positive aspects and personal benefits of digitization in a user friendly and understandable way. The key experience was a mix of information, appreciation and participation, of being part of something big, joining together to shape the company and personal enrichment for the employees themselves.
Building this bridge, supporting unconventional and creative approaches, giving ideas space and taking every employee seriously – that's not only encouraging for the employees, it also brings an inestimable added value to the entire corporate culture.
We look forward to further joint projects.
Illustration: Ajda Zupancic