Creating an epicenter for health information during a global pandemic
Service
Strategic Definition
User Experience Design
User Interface Design
Design System
Marketing and Communication
Duration
6 weeks for first version, 12 months for third version
Supporting the global fight against coronavirus, we built a world-leading Healthcare Hub with scientifically validated data in only three weeks
The novel coronavirus overcame the world in an instant. Countries went into lockdown, businesses were forced to adapt or perish, and new information about the virus emerged by the minute. Medical staff were overwhelmed by both the patient volumes and the new insights that were constantly emerging. It became increasingly difficult for healthcare workers to adjust course, and to differentiate between rumors and scientifically validated data.
Our client: a leader in information and analytics across global research and health ecosystems
Elsevier is one of the world's leading scientific data analytics companies. Digital Healthcare products are one of their main revenue streams, but in this case, they wanted to use their knowledge to support healthcare workers in the fight against the COVID-19 pandemic.
Elsevier wanted to provide clear and accurate clinical information to frontline healthcare workers across the world. To do that, they needed to undergo a digital transformation, one that would require the expertise and experience necessary to build a platform at scale and at (extreme) speed. The result? A world-leading COVID-19 Healthcare Hub that provides timely, scientifically validated data to healthcare workers – a platform that was taken from concept to execution in just three weeks.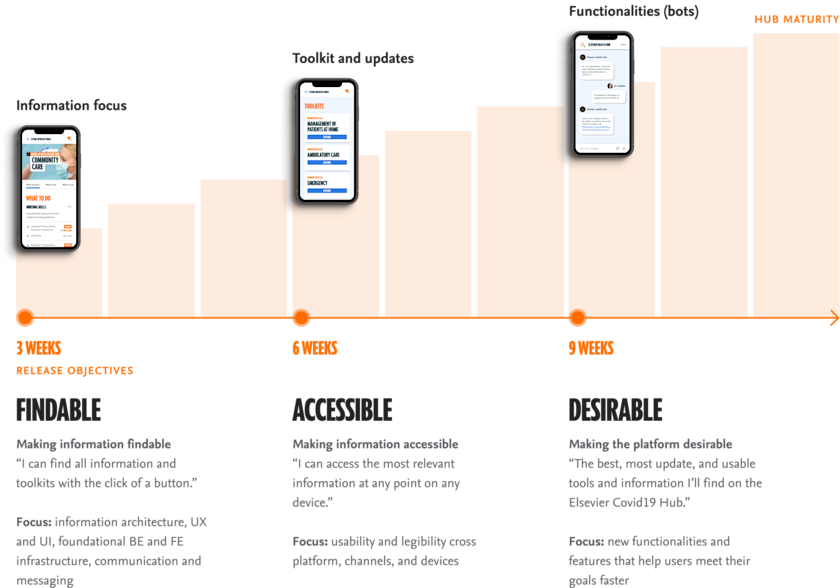 Leveraging data and mobilizing content and expertise (making information findable)
It was key to move swiftly and to be flexible. We took a concerted content management approach combined with agile working groups to set up the Hub. Conducting sprints centered around the needs of healthcare workers meant it had to start by creating findable PDF documents to ensure healthcare workers would have instant resources available to get things under control.
We also had to ensure that critical content was accessible. Since our client's information was spread over dozens of products and departments, aggregating the content into one digital solution was not an easy feat. Our experience in digital transformation for large organizations in the healthcare vertical allowed us to effectively use the API infrastructure. We were able to channel content into toolkits for specific functions within multiple healthcare settings.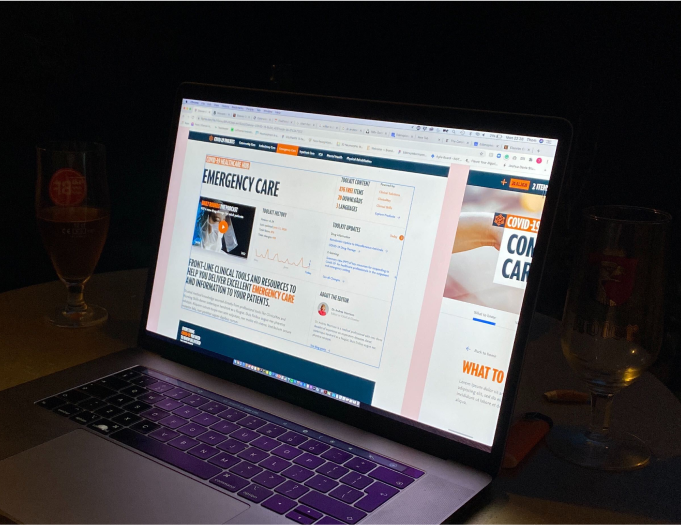 Bringing in unmissable content and scaling up as information availability evolved
With the plethora of information already available about COVID-19, we also needed to make information desirable by building in unmissable content. The range of content included toolkits, podcasts with experts, clinical reports, and curated expert summaries posted on a daily and weekly basis. This kept the information topical, relevant and evolving in real-time.
The goal was never to provide a 'complete' resource, but rather one to which functionality could be continuously added as new insights emerged. The API-driven model allowed us to increase conversation by integrating new research, resources, refreshers, news articles and more as and when they got published. As a result, the hub will remain relevant as a key resource for many years to come.
"Thanks to what she read in the nursing toolkit you sent, an ICU nurse told me that she was able to inform the doctor so that he could detect a different cardiogenic symptom that an intubated patient had while in agony. Thanks to that information, you helped to save his life"

Dr. Bruno daSilva
Future-proof and made to scale while racing against time
The Elsevier and Edenspiekermann teams worked together to completed a new information hub of timely evidence-based data to healthcare workers around the world.
The relentless focus on speed over completion led the team to build, test and implement a working MVP in record time. Starting with an easily scalable and flexible backend structure, while working toward an API-driven model using Contentful and Leadboxer marketing automation tools and bots laid the foundational infrastructure. The quick-to-market determination enabled the platform to be immediately usable from day 1.
A new strategy for healthcare content professionals
Traditional means of marketing and delivering healthcare content to professionals and institutions are ineffective when speed and reliability are paramount for saving lives. During a global pandemic such as COVID-19 it can be very difficult to navigate the rapid stream of continuous information. In response to this, we took a user centric approach and led with empathy toward the medical staff that were on the frontlines of the pandemic. We then delivered a digital information hub of curated medical content that healthcare workers could rely on for in-the-moment scientifically-proven clinical insights.
Designers and business stakeholders take a different approach
Responding to a global crisis such as COVID-19, required a commitment from leadership to put users' needs first. This meant prioritizing societal benefits and the needs of healthcare workers over vested business interests and existing monetization models. Such a commitment required strong and purposeful leadership from within the company.
Putting user needs first doesn't necessarily mean business interests are secondary. User and business needs are naturally aligned, and by redesigning the process we were able to simultaneously increase value for both parties. The circumstances unprecedented, the Elsevier-Edenspiekermann team made a decision to break with convention and pursue a collaboration that would allow them to have impact and deliver ground-breaking results in record time.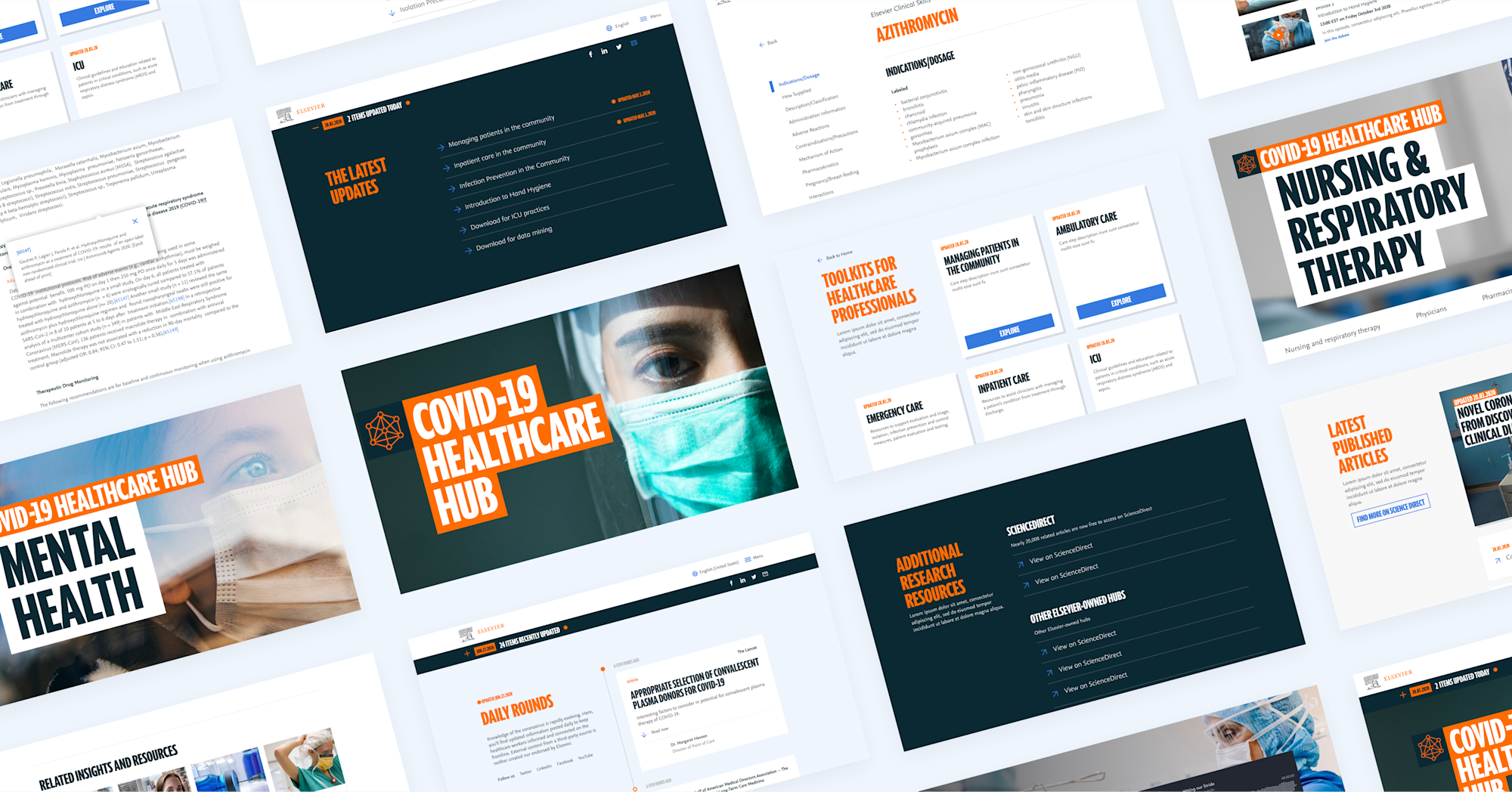 Leading the way into the future
By approaching the hub as a prototype, the team was able to quickly design, test and learn while getting to market in the shortest amount of time possible. That meant cutting through the typical corporate chain of command and getting as close to 'right now' as humanly possible. This was enabled with shortened innovation cycles, drafts, builds, user tests and going live as quickly as possible.
The hub not only delivered value to medical staff and patients, but also reinvented the way Elsevier's content is marketed and delivered. This agile approach can now serve as a blueprint for marketing innovations that can be used if and when other public health crises emerge.