Reinvigorating a heritage skincare brand
Walk into any drugstore and the chances are high that you'll find skincare products with technology from MedSkin Solutions Dr. Suwelack on display. The skincare brand is a trusted name when it comes to collagen reproduction and the treatment of skin injuries, which makes them an industry favorite among the world's leading cosmetics brands.
MedSkin Solutions Dr. Suwelack approached us because they wanted their digital presence to reflect the brand's cutting edge research and production methods, making it possible to reach new customers and launch new business models. While their existing B2B client base is well-aware of their wide range of products and services, the general public and prospective clients weren't – and we were tasked to change that.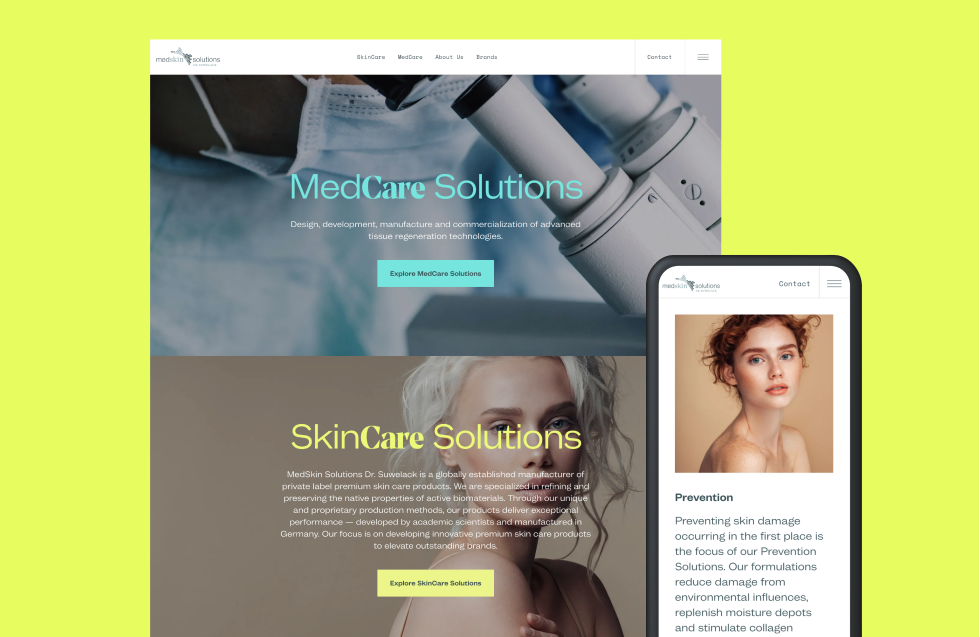 Attracting a new customer base
MedSkin Solutions Dr. Suwelack is a household name in the world of scientifically founded skincare and medicine. We wanted their new website to clearly communicate the brand's core offerings to new and existing customers. We held a number of workshops to define brand positioning and CI, UX and architecture, as well as content strategy.
Within 14 weeks, we developed a new website for Medskin Solutions Dr. Suwelack, which allows the brand to connect directly with their customers through better messaging. The new look and feel reestablishes Medskin Solutions Dr. Suwelack as a contemporary brand, reflects their state-of-the-art research and production methods, and thus allows them to expand their customer base. Repositioning the brand was a crucial step in order to simplify the process of launching new products and business models in the future.
A new website that reflects the company's experience and expertise
MedSkin Solutions Dr. Suwelack operates in a multitude of fields. Their old website was jam-packed with information on the brand's history, services, and products, resulting in a user experience that left first-time visitors feeling confused.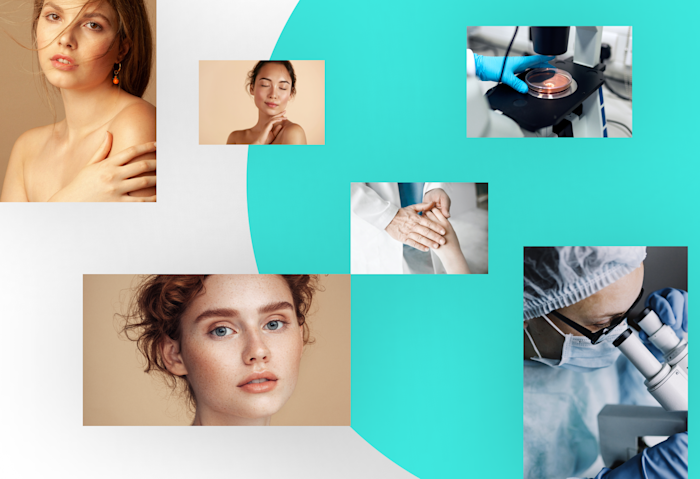 When our client asked us to help them with a rebrand, we start off with looking at everything: visual design, layout, content, and interactions. Before updating the design, we wanted to get a better understanding of how the brand wants to position itself, and what its core offering is. In the case of Medskin Solutions Dr. Suwelack, this meant turning a confusing content maze into a clear, beautiful, and useful tool for generating new leads and facilitating new sales.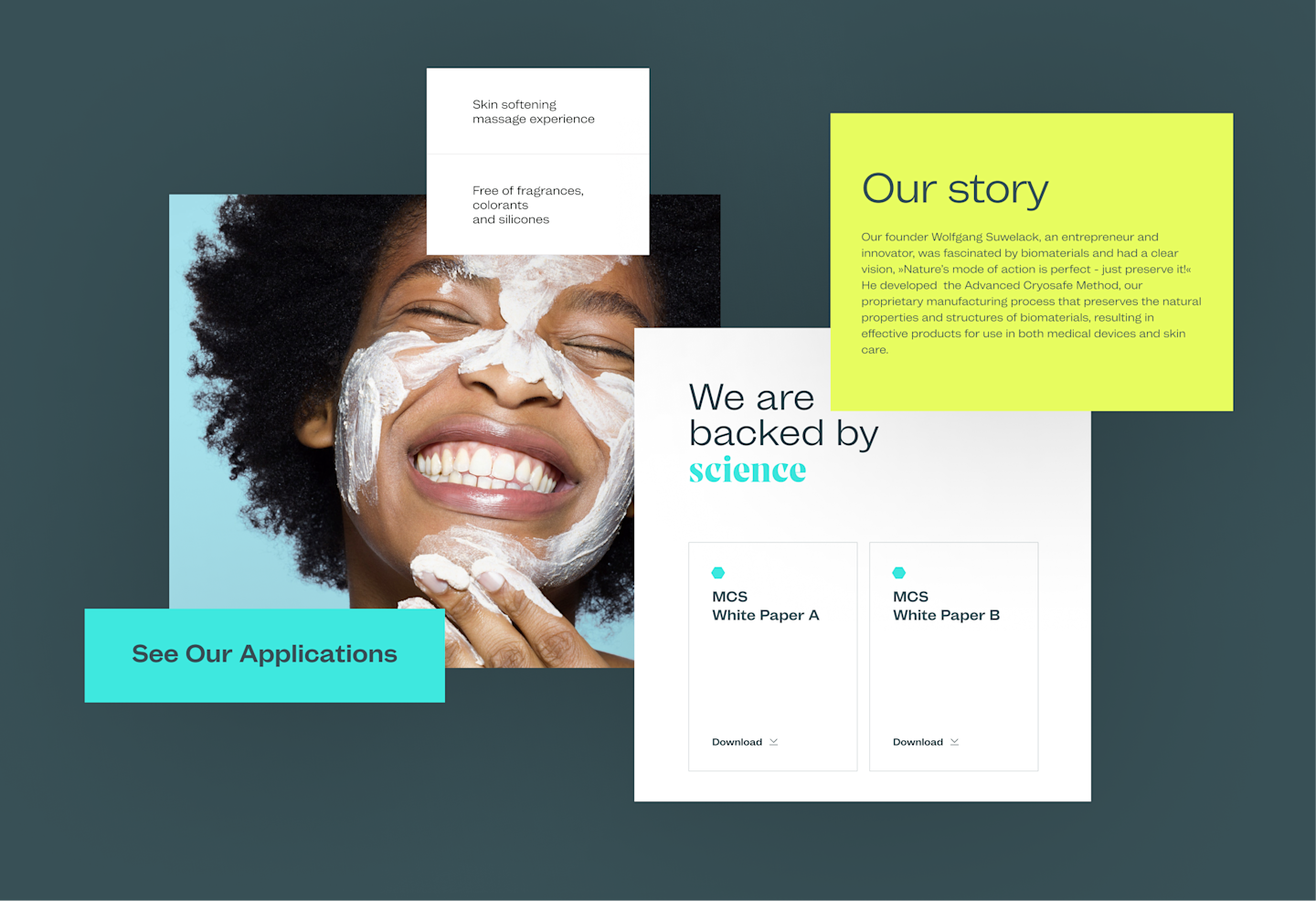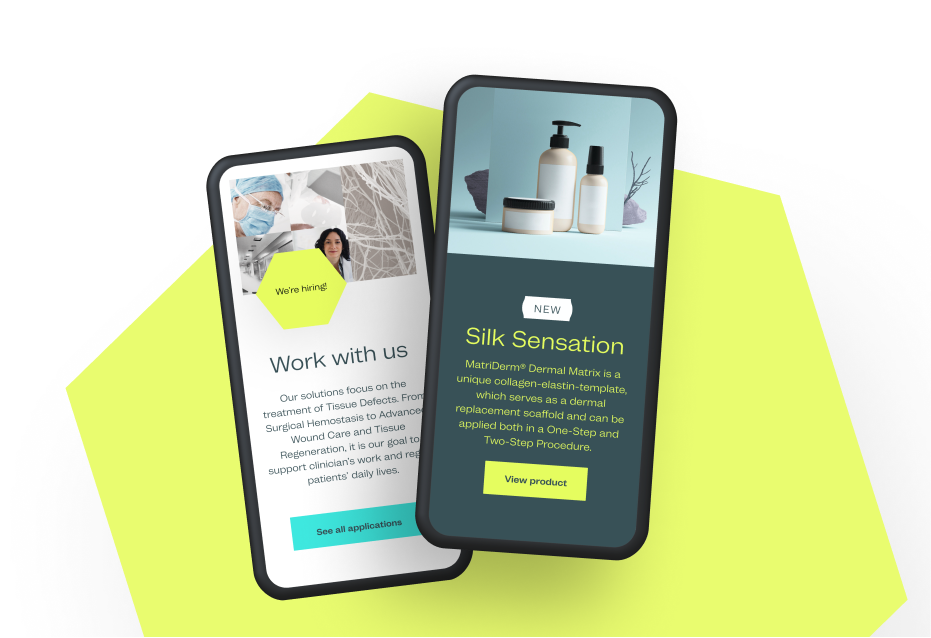 We developed a new content strategy for Medskin Solutions Dr. Suwelack, which is also reflected in the architecture of their website. Now, there is a clear separation between the brand's skincare and medical products, giving existing and prospective clients the opportunity to get the information they need within just a few clicks.
The website also makes it easier to purchase cosmetics products directly from Medskin Solutions Dr. Suwelack's own range of skincare brands.